A walk through a vast, bucolic and little-explored landscape.
Guided, gentle walking tour introducing Hokkaido's eastern region of pastoral, forested scenery set against a backdrop of mountain ranges, the Pacific Ocean and Sea of Okhotsk. Wildlife aplenty, spectacular crater lakes and active volcanoes; local cuisine mades with some of the best quality ingredients found anywhere in Japan, and onsen hot spring baths.
September & October.
The East Hokkaido Walk tour is a fully guided tour suitable for anyone who is an occasional walker and can walk for more than three to four hours in comfort. In general, the route is gently undulating but also includes some short, steeper climbs. Please read more on Tour Levels here.
An 8 day, 7 night tour starting in Kushiro and finishing at Memanbetsu Airport. Tour accommodation is in Japanese inns and hotels. The maximum group size for this tour is 12 persons. We have no minimum size. If we accept a booking we guarantee to run the tour.
The East Hokkaido Walk is a fully guided, walking tour exploring the rural and, sometimes, wild lands of the Japanese archipelago's sparsely populated, most northerly main island. In winter, frigid temperatures bringing plentiful snow to Hokkaido but temperate warmer weather during the rest of the year makes Hokkaido an ideal destination for walking. The East Hokkaido Walk capitalises on this clement weather to take us on a journey through the beautiful and gentle, seemingly empty lowlands of Hokkaido's eastern extremity.
We explore this remote corner of Japan wending our path from the shores of the Pacific Ocean; through great expanses of rolling meadows; wetland nature reserves where birds of myriad species breed in their tens of thousands; to landscapes formed by volcanoes, some quiet for many an age and others still dramatically active; to the Shiretoko Peninsula, a UNESCO World Heritage Site and one of Japan's last great wildernesses; and to the Sea of Okhotsk coast, where Russia is a close neighbour. Vast, open landscapes surround us and abundant wildlife, including foxes, deer, seals, dolphins and numerous species of birds, is often encountered as we walk through their domains. Here the great and bustling cities and towns of Japan to the south are definitely of another world.
Japan settled Hokkaido comparatively recently in the 19th Century and there is still little here of the history and culture commonly associated with the rest of the nation. But what is lacking in tradition is more than compensated for by the sheer scale and beauty of Hokkaido's scenery and the quality and range of its food, undoubtedly the best in Japan. The East Hokkaido Walk combines these wonderful elements with another,
onsen
thermal hot spring baths, for an enjoyable experience of a different, contrasting region of Japan.
The tour begins at the fishing port of Kushiro and from here we use local trains and buses, private-hire vehicles, a boat as well as our own two feet for a slow-paced journey along quiet trails and equally quiet roads. We visit small fishing towns and tiny settlements gathered around onsen thermal hot springs, and walk through remote farmsteads. We finally arrive in Memanbetsu, a place name, along with others such as Nemuro, Bettoga, Shari and Shibetsu, resonant of a much older world, of the original Ainu inhabitants and their native culture. The group transfers together to Memanbetsu Airport at the end of the tour.
This is a walking tour at a relaxed pace, which allows us to thoroughly appreciate and enjoy the highlights of Hokkaido's eastern region. The distances walked each day are moderate, between 6-19 kilometres, on trails over terrain that is mostly flat or gently undulating. There are a couple of relatively steep climbs but these are short in duration and always taken at an easy pace. Our main baggage goes ahead by vehicle each day and we need only carry what we need while walking. Throughout the tour we stay in comfortable and clean, modern Japanese inns and hotels, many with soothing onsen baths.
Price:
From JPY388,000 (JPY = Japanese Yen) per person. Single accommodation is available on a limited basis at JPY49,000. Please contact us for further details. Please use the currency converter on this page to find the current rate in your local currency. See
Booking Conditions
.
What is included and not included?
A fully guided tour including local travel from tour meeting point to finishing point; accommodation for 7 nights; 7 breakfasts, 2 lunches and 7 evening meals, baggage transfers, and entrance fees. Not included are flights, 4 lunches and drinks with meals.
The itinerary for the East Hokkaido Walk tour is ground only beginning in Kushiro and ending at Memanbetsu Airport. After receiving the booking and deposit payment we will provide detailed instructions for travelling to the meeting point in Kushiro from Osaka's Kansai Airport (KIX), and Tokyo's Narita (NRT) and Haneda (HND) Airports. At the end of the tour, travellers are advised not to book themselves out on an early morning flight from Memanbetsu Airport as the group transfer will arrive at midday.



Please note that on Day 5 the main baggage will be shipped in advance overnight. On this day all items you require for overnight will need to be carried by you and your daypack should be sufficiently big enough to accommodate these items.




Day 1 Kushiro

The Walk Japan Tour Leader welcomes everyone to the tour at 6:00pm in the lobby of our accommodation, a hotel in the centre of town adjacent to the harbour. The tour briefing is held here before we stroll to a nearby izakaya, a lively and popular restaurant. The menu includes a wide range of dishes to suit everyone's palate, including seafood freshly landed at Kushiro's harbour.



Accommodation: Hotel.
Meals: Dinner provided.
Total walking: N/A.
Total elevation gain: N/A.




Day 2 Kushiro - Bettoga - Nemuro

After breakfast in our hotel we purchase a picnic lunch at a local store before setting off into Hokkaido's rural interior and wilderness. We board a local train for Bettoga and gently wend our way along the coastline of the Pacific Ocean and through expanses of wetlands. Wildlife abounds here and frequent whistles from our train encourage the inhabitants to move out of our way. Occasionally we have to stop for more intransigent beasts to let us pass.



Two hours later we arrive in Bettoga, a tiny station in the middle of seemingly nowhere. Today's walk is a leisurely stroll. A gentle trail, maintained by a local dairy farmer, leads us through a vast landscape of meadows to the coast at Fureshima. We arrive at a nature and bird reserve, where both birds and flowers are abundant. We eat our lunch al fresco here.



We return to the station for onward transfer to Nemuro, a major fishing port and the easternmost city of Japan. Here we are close to Russia and the disputed Kurile Islands, known as the Hoppo-ryodo in Japan, lie just off the coast here. In fine weather they are clearly visible across the Pacific Ocean.



Our accommodation is in a comfortable Japanese and Western-style hotel. We stay here for the next two nights. Dinner, in our accommodation, is at a restaurant focussing on dishes made of freshly caught local seafood.



Accommodation: Hotel.
Meals: Breakfast & dinner provided.
Total walking: 8km (5 miles).
Total elevation gain: 127m (417ft).




Day 3 Nemuro - Shunkunitai - Nemuro

Today, we set out in a private-hire vehicle to Shunkunitai, an 8km long sand bank that divides the Sea of Okhotsk from Lake Furen. The dunes, marshes, mudflats and forests, found here provide a bio-diverse area teeming with around 250 species of bird. Depending on the season we may see Red-Crowned Cranes, White-tailed Eagles and Black Woodpeckers. This morning, we enjoy a 5km walk here in the company of a local, who expertly identifies the seasonal occupants of this beautiful nature reserve. Lunch, featuring hearty local fare, is at a restaurant overlooking the lake.



We transfer to the Ochiishi Peninsula and follow a cliff edge trail on foot to a pine forest. Here the wind blows almost continuously and the trees have responded by growing into unusual shapes. We transfer to back to Nemuro and our accommodation there. Tonight we eat out in town.



Accommodation: Hotel.
Meals: Breakfast & dinner provided.
Total walking: 12km (7.5 miles).
Total elevation gain: 149m (489ft).




Day 4 Nemuro - Yoroushi Onsen

Following breakfast we transfer to Kaiyoudai on the Kita-Nemuro Ranch Way, a 70km-long trail created by locals through their farmlands and forests. Kaiyoudai is a high point with views over the surrounding expanse of rolling farmlands to the coast and in the distance, on a clear, we can see the mountains that stretch north to the Shiretoko Peninsula. 10km after setting off on our walk through meadows, past farms and over many streams. Finally, we arrive at the Saeki Farm, home of the instigator of this delightful route. We enjoy lunch here.



Replete, we now have the option to walk a further 8km from here to our accommodation at remote Yoroushi Onsen or transfer there by vehicle. As its name suggests, Yoroushi Onsen, a small settlement that was established in the early 20th Century by pioneer settlers from Honshu, has hot spring baths for us to luxuriate in. Our stay here allows us to make the most of the onsen.



Accommodation: Japanese inn with onsen hot spring baths.
Meals: Breakfast, lunch & dinner provided.
Total walking: 10.2km (6.3 miles).
Total elevation gain: 175m (574ft).




Day 5 Yoroushi Onsen - Lake Mashu-ko - Kawayu Onsen

Today is the hardest we undertake on this tour but the walking of the previous days has set us up well to cope. After breakfast in our accommodation, we transfer by vehicle to the Ranch Way at the foot of Mt. Nishibetsu-dake (799.8m/2,624ft). We set off along the trail initially walking through larch forest before commencing a long and steep climb known locally as Patience Hill. 90 minutes of patient climbing later brings us to the peak of Nishibetsu-dake. Although our altitude gain relatively moderate at 460m/1,509ft, a micro-climate generated by the cold Sea of Okhotsk causes the environment to change quickly during our climb from pastoral to alpine. Fog is a frequent side-effect of this climate but if the weather is fine, we are rewarded at the peak with a grand panorama over Lake Mashu-ko.



Lunch is a bento lunch box, which we have brought with us.



Mashu-ko is a crater lake renowned for it's crystal-clear waters, with visibility measured to a depth of over 40m. Many visitors are drawn to the lake's beautiful vistas. Few, though, approach it as we do by descending Mt. Nishibetsu, a route which affords us towering views over Mashu-ko. As we descend the more energetic may also climb neighbouring Mt. Kamui, which directly overlooks the limpid waters. Continuing on the Kita-Nemuro Ranch Way we skirt the lake and finally arrive at a cafe. Here we relax before transferring by vehicle to Kawayu Onsen.



Our accommodation for the night is a pleasant inn. Here the smell of sulphur from the onsen fills the air, but the locals swear by the therapeutic health benefits. We make use of the baths to soothe any aching limbs and to refresh ourselves for dinner, another feast of local dishes.



Accommodation: Japanese inn with onsen hot spring baths.
Meals: Breakfast, lunch & dinner provided.
Total walking: 11km (6.8 miles).
Total elevation gain: 630m (2,066ft).





Day 6 Kawayu Onsen - Utoro

A more relaxing day following yesterday's exertions. We start with a short morning walk to the seemingly diabolic Mt. Io-zan, which belches vapour and sulphur in a continuous roar from numerous fumeroles. Suddenly, we seem to be on another planet.



Returning to the familiar rural countryside we have walked through so far, we journey on by local train to Shari, the gateway to the Shiretoko Peninsula. A further short bus ride onto Utoro, which is located on the Sea of Okhotsk coast.



We enjoy lunch at a local restaurant before boarding a boat for a three-hour trip, enabling us to view the Peninsula, designated as a UNESCO World Heritage Site in 1995, from the sea. With soaring cliffs and plunging waterfalls, the coastline here is dramatic. Bear, deer and foxes make appearances on the shoreline, and we may encounter dolphins, whales, sea lions and a variety of seabirds in the waters around our boat. Please note, however, depending on weather conditions the boat trip may be either rescheduled or cancelled, in the event of which an alternative itinerary for the afternoon will be provided.



Our accommodation is an onsen hot spring hotel in town adjacent to the sea. We stay here two nights. Dinner in our hotel is yet another feast.



Accommodation: Hotel with onsen hot spring baths.
Meals: Breakfast & dinner provided.
Total walking: 3km (2 miles).
Total elevation gain: 46m (151ft).




Day 7 Utoro - Shiretoko

A morning bus transfer to the Shiretoko Nature Center, where we learn about the unique ecosystem of the Peninsula. This is followed by a short walk to the top of Furepe-no-taki waterfalls. From the lookout point, we can look over the falls to the sea below and the mountains of Shiretoko behind. We may be fortunate enough to observe a White-Tailed Sea Eagle on our walk today.



After lunch, a short bus ride to the Shiretoko Five Lakes area for a looping walk around the lakes, where native forest of oak and pine, as well as the Shiretoko mountain ranges, are reflected in the clear waters of the lake. Close encounters with bears are a distinct possibility in June and July, requiring a ranger to accompany us, but in September and October unlikely and we are permitted to walk on our own.



We return to our inn for hot spring baths and a final celebratory meal together, reviewing the highlights of the tour.



Accommodation: Hotel with onsen hot spring baths.
Meals: Breakfast & dinner provided.
Total walking: 6km (3.5 miles).
Total elevation gain: 90m (295ft).




Day 8 Utoro - Memanbetsu Airport

We transfer together from the accommodation to Memanbetsu Airport after breakfast, where we arrive at approximately midday. The tour ends here. If your flight requires an early departure, please contact us for advice.



Accommodation: N/A.
Meals: Breakfast provided.
Total walking: N/A.
Total elevation gain: N/A.




This Itinerary is subject to change.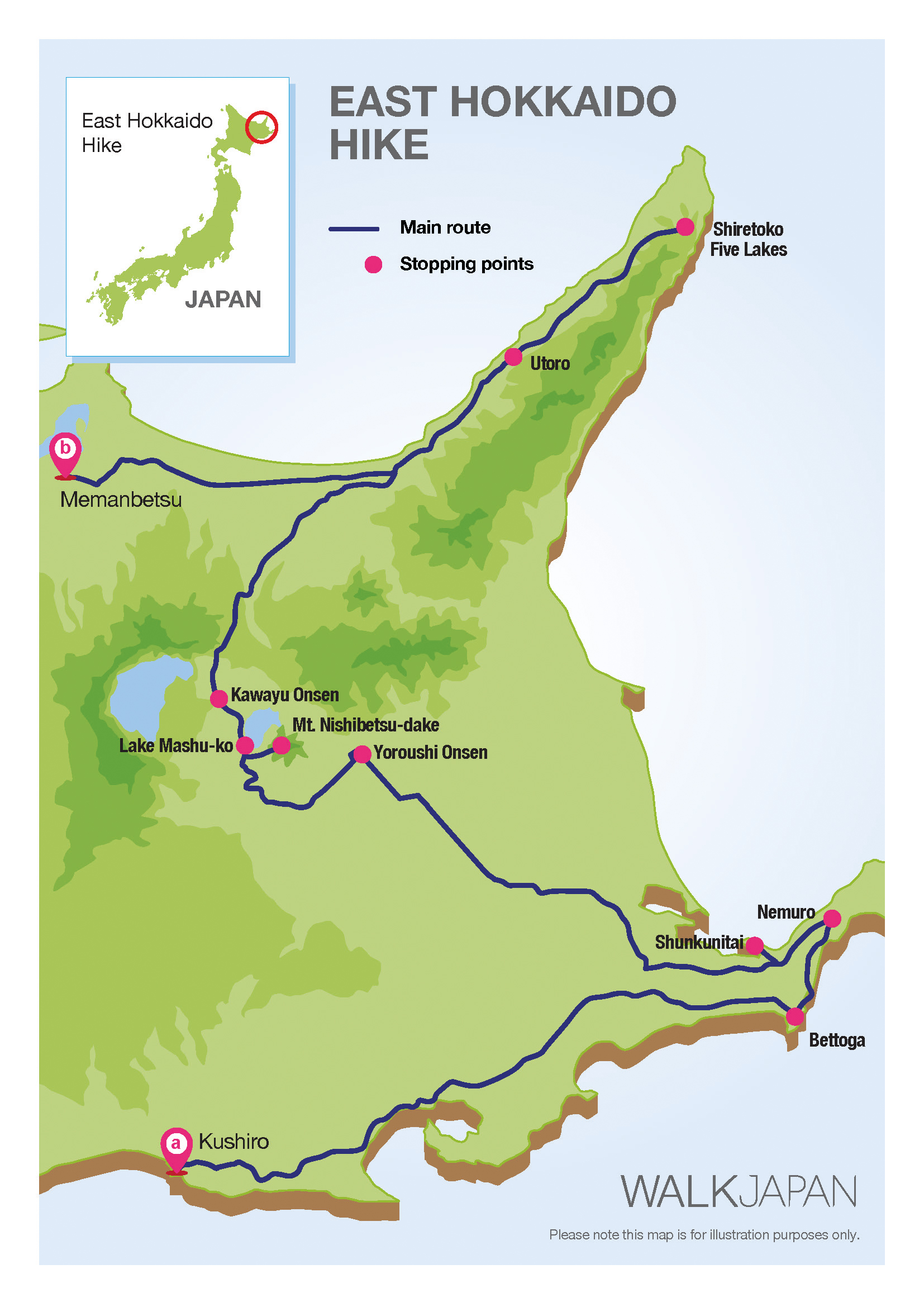 The itinerary for the East Hokkaido Walk tour is ground only beginning in Kushiro and ending at Memanbetsu Airport.



The airport closest to the tour's start in Kushiro is Hokkaido's Kushiro Airport, with domestic flights departing frequently from Tokyo's Haneda International Airport.
-----
FROM KUSHIRO AIRPORT (KUH)
From Hokkaido's Kushiro Airport shuttle buses depart to central Kushiro City. The journey costs about JPY940 per person and takes approximately 55 minutes. The journey by taxi costs about JPY6,000 and takes approximately 30 minutes.
-----



The Pre-tour Pack includes detailed instructions, including a map, for travel to the accommodation at the start of the tour.



Tour participants are advised not to book themselves out on a morning flight from Memanbetsu Airport at the end of the tour as the group transfer will arrive at approximately midday. If you plan to depart earlier than this, please contact us for advice.