An easy walking tour exploring Japan's Seto Inland Sea, a vibrant region of art, architecture and gourmet dining.
Walk Japan's gentlest walking tour, suitable for the most leisurely walker, through one of the most intriguing regions of water in the world. An exploration of the Seto Inland Sea's history from the times of the Silk Road: samurai warlords and pirates, nineteenth-century Western explorers, Japanese and western movies, modern art and architecture, and community revival; comfortable urban hotels complemented with varied cuisine of the region.
Year-round.
The Inland Sea Odyssey is a fully-guided tour suitable for anyone who can walk for more than two hours in comfort. The walking is light and generally on level pavement but does also include some short climbs and descents sometimes over steps; these are mostly in Onomichi on Day 7. Please read more on Tour Levels here.
An 11-day, 10-night tour starting in Himeji and finishing in Hiroshima. Accommodation is mostly in hotels. The maximum group size for this tour is 12 persons. We have no minimum size. If we accept a booking we guarantee to run the tour.
The Inland Sea Odyssey is a Level 2, easy walking, fully-guided tour that takes us through Japan's Seto Inland Sea, a serene body of water that was at the furthest eastern extent of the Silk Road and at the heart of Japan's earliest history. The Inland Sea is a 450km (280 miles) long body of water surrounded by Honshu, Shikoku and Kyushu, three of Japan's four main islands. Dotted with an archipelago of islands, islets and shoals, and blessed with calm seas and a clement climate, the region was called the Aegean of the East by nineteenth-century explorers. Thomas Cook, the father of modern tourism, wrote that '[It] surpassed all my dreams of beauty of that island- and mountain-studded lake...' Like Cook, visitors today are still charmed by the Inland Sea's beauty.
Glistening golden sunrises and slowly subsiding, blood-orange sunsets bookend many sunny days of primary-coloured, far-reaching vistas; while days of mist create shallower perspectives of beautiful, subtly changing gradations of light and shadow. It is a sea of vast and quiet stillness that is broken only by the cry of a sea bird or the rhythmic thudding and lapping wake of the occasional passing boat. On its shimmering steely-blue waters, fishing boats cluster in gently bobbing shoals, ferries ply to and fro with purposeful regularity, and laden coastal freighters slowly make passage to distant ports. Villages of closely clustered clapboard houses, which seem to have been largely bypassed by modern Japan, lie on the shores of larger islands. Here and there simple, elegant Shinto shrines stand on promontories overlooking the sea protecting fishermen and sailors. The hushed solitude of the Inland Sea and its islands are in great contrast to the elegant and fascinating cities, including Takamatsu, Hiroshima and Onomichi, that cluster on the sea's coastal periphery.
The Inland Sea Odyssey loosely follows the travels of Donald Richie, one of the greatest observers of modern Japan, who in 1971 wrote his classic book
The Inland Sea
, a literary travelogue relating his meandering journey east to west through the sea from Himeji to Miyajima. Like Richie we travel from island to island, exploring the landscape, meeting the locals, and musing on Japanese history, society and culture. Unlike him, however, whose journey was a wistful lament on a disappearing way of life, ours is a journey of hope that takes us through the fascinating rejuvenation of communities within the Inland Sea.
The Inland Sea, through which religion, culture and artifacts arrived via China and Korea from across Asia and India, was key to Japan's early history. Here, in the twelfth century, the legendary Taira and Minamoto Clans fought many of their battles for supremacy, and the infamous
suigun
pirates, who terrorized the coastal communities of Korea and China, later secreted themselves. In the Edo Period (1603–1868), the sea flourished as part of the highly organised
Kitamae-bune
shipping route that circuited west Japan as far north as Hokkaido.
Daimyo
regional barons, Korean delegations and the Dutch traders in Nagasaki also made their way via the Inland Sea to Edo, the feudal citadel that became Tokyo, to pay their allegiance and respects to the all-powerful shogun.
We explore the Inland Sea's history, culture and society with a focus on the recent past including architecture, art and the gathering pace of recovery in the fortunes of the Inland Sea and its communities. We also explore movies made here and the cuisine of the region, which has at its heart delicious seafood and citrus fruits. On our journey we delve into the work of Japan's famed movie directors Akira Kurosawa and Yasujiro Ozu; Kenzo Tange, the father of Japanese modern architecture; and American-Japanese sculptor Isamu Noguchi. All were drawn to the region for their work in the last half of the twentieth century. Since then many of Japan's best artists and architects, including Kusama Yayoi, Yukinori Yanagi, Toyo Ito, Tadao Ando and SANAA, have been increasingly active in and around the Inland Sea, adding a new vitality that is permeating into the farthest flung islands and injecting a new life and spirit into its communities.
Our journey takes us slowly west on a journey that crosses back and forth over the Inland Sea. From Himeji we ride a local train across the Inland Sea on the impressive Seto Ohashi bridge to the elegant city of Takamatsu, before we hop from island to island by regular ferries and sea taxis, visiting little-known island communities and better-known Onomichi and Tomonoura, one a once-wealthy sea merchant town and the other a traditional fishing port. Further travel brings us to the Shimanami Kaido, a road on a series of bridges that leapfrog islands from Honshu to Shikoku, and eventually to Dogo Onsen hot spring town. Finally, we re-cross the sea to Hiroshima and Miyajima. En route, we visit many sites of art and architectural interest that have given impetus to the region's revival, including Naoshima, Inujima, Teshima and Omishima.
Although the tour includes exploration of some of Japan's more remote islands, each night we stay mostly in comfortable urban hotels with one experience in traditional accommodation with
onsen
hot spring baths. Walking is approximately 3–7km (1.9–4.5 miles) each day and can be accomplished by the most leisurely walker. Walking will include some short inclines, usually over steps that can be completed at an easy pace. Walk Japan provides tour participants with easily followed, detailed instructions on how to join the tour.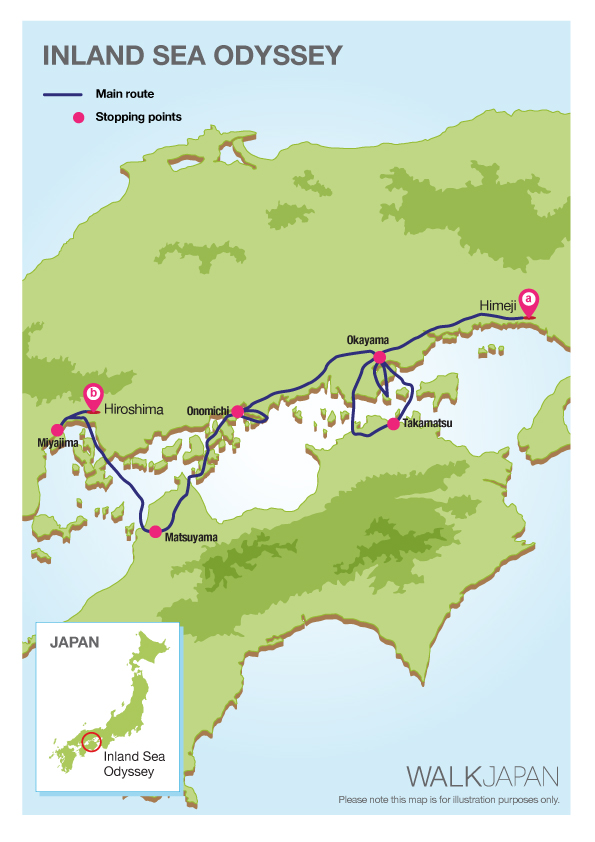 The itinerary for the Inland Sea Odyssey tour is ground-only, beginning in Himeji and ending in Hiroshima. Prior to the tour, Walk Japan will provide detailed instructions for travelling to the meeting point in Himeji from Osaka's Kansai Airport (KIX), Tokyo's Narita (NRT) and Haneda (HND) Airports, Fukuoka Airport (FUK) and Hiroshima Airport (HIJ). Travel from Hiroshima at the tour's end is easily made by shinkansen bullet train to Fukuoka, Osaka, Kyoto, Nagoya and Tokyo.



Please note that on Day 9 our main baggage will be shipped in advance overnight. On this day you will need to carry any items you require overnight in your daypack, which should be sufficiently large to accommodate these items. Please see the tour notes for further information.




Day 1 Himeji

The group meets in the early afternoon for the tour briefing in the lobby of our hotel, near Himeji Station. Participants are requested to eat lunch prior to joining the tour. After leaving our luggage at the hotel, we visit Himeji Castle, a complex of 83 buildings, including its towering keep, and the finest example of a feudal-era, Japanese fortress. An impressive and imposing edifice, the castle has been listed as a UNESCO World Heritage Site. It has also been used as a location for many films including Akira Kurosawa's Kagemusha and Ran, the fifth James Bond movie, You Only Live Twice, and the Shogun TV mini-series, which was based on James Clavell's book of the same name.



We also make time to visit the excellent Hyogo Prefectural Museum of History built by Kenzo Tange, the Himeji Literature Museum designed by Tadao Ando, and Senkantei, a small public facility by Kisho Kurokawa who is famed for his classic Nakagin Capsule Tower in Tokyo.



After returning to our accommodation, we refresh ourselves before enjoying dinner together with your Walk Japan tour leader at a hospitable local restaurant.


Accommodation: Hotel.
Meals: Dinner provided.




Day 2 Himeji – Takamatsu

An early start to visit Shosha-zan, a mountain atop which sits the 1,000-year-old and beautifully atmospheric Engyo-ji temple. A ropeway to the peak provides us with wonderfully expansive views as we travel up to the top. The serene unspoiled setting here appears frequently in films and was most notably used as a location for The Last Samurai starring Tom Cruise.



We return to Himeji Station to begin our journey to the shores of the Inland Sea and Takamatsu, our destination this evening. A super-fast shinkansen bullet train whisks us to Okayama, where we change to an express train for the last leg of our journey today to Shikoku, Japan's fourth main island. This leg of the journey takes us over the 13km-long Seto Ohashi bridge, for one of the best small train journeys of the world. The Seto Ohashi in fact consists of 11 conjoined bridges that afford us vast grandstand views across the Inland Sea. After arrival in Takamatsu, we check in at our hotel to refresh ourselves before heading out into town for our evening meal together.


Accommodation: Hotel.
Meals: Breakfast & dinner provided.




Day 3 Takamatsu

Takamatsu is an elegant city and one of the driest and sunniest places in Japan. Its port is a busy hub for ferries plying to and from the islands that pepper the Inland Sea as far as the eye can see.



We spend the day exploring Takamatsu by private-hire vehicle, starting at the fabulous Isamu Noguchi Garden Museum, sited in the Mure stone-working district on the outskirts of the city. Here, with luck, we meet Masatoshi Izumi, a stone mason and assistant of Noguchi who collaborated with the artist to create the monumental works of art that are now found around the world. Izumi, who is a self-effacing gentleman, is renowned in his own right for his use of stone in architecture, sculpture and garden landscaping, and has produced work for many projects well-known in Japan.



From here we visit other sites of architectural interest including those designed by Kenzo Tange, one of the most significant Japanese architects of the twentieth century and the nation's first Pritzker Prize winner. On our travels we also learn about Masanori Kaneko, Kagawa Prefecture's first democratically elected governor who had the insight to introduce modern architecture to Takamatsu and was instrumental in bringing Noguchi and Izumi together. In doing so, Kaneko set the early foundations for the growth of modern art in the Inland Sea region.



En route on our travels today, we stop off at the beautiful Ritsurin Koen, a showcase garden of the Edo-Period (1603-1868). It is particularly known for its exquisite niwaki sculpted pine trees, while a tea house aside a pond is the epitome of serene traditional Japanese architecture.



We enjoy lunch together of Sanuki udon wheat noodles, a simple but very popular local delicacy. We return to our accommodation in the late afternoon to freshen up before another foray into town for our evening meal. Dinner is not included tonight but your tour leader will be on hand to advise on and settle you in to the restaurant of your choice.



Note: Meeting Masatoshi Izumi is subject to his availability.


Accommodation: Hotel.
Meals: Breakfast & lunch provided.




Day 4 Takamatsu – Teshima – Inujima – Okayama

After breakfast we board a sea taxi for a day island hopping. The 450km (280 miles) long Inland Sea is protected by land on all sides and is one of the calmest bodies of saltwater in the world. Even the greatest landlubber should have little problem aboard our water-borne transport for the day.



Many islands in the region have found a new stimulus through association with the Setouchi Triennale, a contemporary art festival. In common with much of rural Japan, the islands here have long suffered from declining and ageing populations. The principal aim of the festival, which was established in 2010, is to reverse these trends in a sustainable and creative way. Much of the artwork has remained in situ after each Triennale and is to be found juxtaposed with everyday life here in the sandy coves, little harbours, and fishing villages that pepper these islands.



On Teshima island we visit the spectacular art museum designed in collaboration by Ryue Nishizawa and artist Rie Naito. The museum structure, an artwork in itself, is a freestanding concrete shell designed to resemble a water droplet poised by water tension. Nishizawa is the co-founder of SANAA architectural practice, another Pritzker Prize winner. From Teshima we cross the waters to Inujima and the audacious Seirensho, a long-disused copper smelting works transformed into an immense artwork to a concept created by Yukinori Yanagi, one of Japan's most stimulating and interesting artists. Over the coming days, we come across Yanagi's work elsewhere – and, with luck, the artist himself.



Finally, our sea taxi takes us to the mainland for onward transport to Okayama and our accommodation for the evening. Time to refresh ourselves before venturing out into town for dinner together.


Accommodation: Hotel.
Meals: Breakfast, lunch & dinner provided.




Day 5 Okayama – Naoshima – Onomichi

After an early breakfast in our hotel, we make the journey to Naoshima, the small island at the centre of the Inland Sea's art boom, by local train and ferry. Our arrival at Miyanoura, Naoshima's tiny ferry port, sets the scene for the rest of our day here. The terminal building is a simple modernist structure designed by SANAA. Adjacent is a psychedelic red pumpkin, a motif of Yayoi Kusama, perhaps Japan's most successful artist today.



A fast, easy to use island bus service allows us to leisurely explore the whole island including the Benesse House Museum and Art House Project. Tadao Ando, one of Japan's most prolific architects and another Pritzker Prize winner, was instrumental in the successful revival of Naoshima, which has overcome in a remarkable way the devastation once caused by industry. Besides Ando's architecture we also enjoy work by some of the world's great artists from the West, Asia and Japan, including Richard Long, Christo and Jean-Claude, Jean Michel Basquiat, Bruce Nauman, Lee Ufan, Hiroshi Sugimoto and Yukinori Yanagi amongst many other artists of the late twentieth and early twenty-first centuries.



Although a small island, Naoshima has plenty to intrigue us for the whole day. Late afternoon, we board the ferry and then trains to Onomichi, where we spend the next two nights. We relax over an evening meal in our accommodation.


Accommodation: Hotel.
Meals: Breakfast & dinner provided.





Day 6 Onomichi – Momoshima – Tomonoura – Onomichi

We take the ferry to Momoshima island to visit Art Base, the home of Yukinori Yanagi, the artist behind Seirensho on Inujima and some of the marvellous artworks we saw on display yesterday in the Benesse Museum on Naoshima. Art Base is one of Yanagi's latest projects using art as a catalyst for the revival of the islands of the region. If he is in residence, he will personally welcome us and explain his art and aims.



Transferring by ferry to Tsuneishi-ko harbour from Momoshima, we pass close by a shipyard, where large ships in different stages of completion appear as works of art on an industrial scale. A further transfer by taxi brings us quickly to Tomonoura, where we explore this picturesque fishing port of charming clapboard houses and narrow lanes.



In the 1990s, the locals successfully fought to preserve Tomonoura's bay from development. A nationwide cause célèbre at the time, their efforts protected a delightful sea vista. We leisurely explore the town, which was the inspiration for scenes in Hayao Miyazaki's Ponyo. It has been the location for many films including, perhaps surprisingly, Hugh Jackman's Wolverine. We return by local bus to Onomichi.



Note: Meeting Yukinori Yanagi is subject to his availability.


Accommodation: Hotel.
Meals: Breakfast, lunch & dinner provided.




Day 7 Onomichi – Ikuchi-jima

We spend today strolling around Onomichi, a elegant town aside a busy waterway. The old centre of tightly packed houses, many built about a century ago in an intriguing Japanese-Western fusion style, in a maze of narrow lanes is perched on a hillside overlooking a charming shopping district and the port area. Here we also find the ancient and beautiful temples that attest to Onomichi's centuries-old merchant and seafaring wealth, which had its roots in the Kitamae-bune trading ships that plied between Osaka and Hokkaido via the Inland Sea and the Sea of Japan during the Edo Period (1603–1868).



The town is regularly used in movies most famously by Yasujiro Ozu, who filmed his acclaimed Tokyo Story at Jodo-ji, one of the temples. Nagisa Oshima, who was acclaimed for his later films In the Realm of the Senses and Merry Christmas, Mr. Lawrence, also set one of his earliest films, Boy, in the town.



Our stroll begins at Jodo-ji and takes us on a fascinating, meandering exploration of Onomichi. Although our route today includes a number of climbs and descents, our pace is relaxed, allowing us to gently appreciate the town's delightful atmosphere and enjoy some splendid vistas that open up to us at higher points. En route we see wonderful old properties that are in different stages of being brought back into use, and meet some of the younger Japanese who are lending a hand in the building work and establishing the new businesses that occupy these splendid buildings. One of these newly revived buildings is Miharashi-tei. Once a sumptuous retreat for a local shipping magnate, the building fell into disuse and decay before being rescued by a local non-profit organisation led by prominent architect Yoshitaka Watanabe. Today, Miharashi-tei has been brought back to life as a lodging and café, and is one of many shining examples of the renewed vigour being brought to Onomichi.



Late afternoon we transfer to Ikuchi-jima, an island in the Inland Sea, and our accommodation in a quiet town aside a narrow sea strait.


Accommodation: Japanese-style hotel accommodation.
Meals: Breakfast, lunch & dinner provided.


Day 8 Ikuchi-jima – Shimanami Kaido – Dogo Onsen

We start our exploration along the Shimanami Kaido, the road that links Honshu to Shikoku via a series of bridges connecting a chain of islands across the Inland Sea. Our journey includes a visit to the ancient Oyamazumi Jinja, an atmospheric Shinto shrine associated with the Minamoto Clan who –after decades of conflict – were victorious over their enemies the Taira Clan in 1185. We also visit some great examples of modern Japanese architecture including one designed by Toyo Ito, who was awarded the Pritzker Prize in 2013.



The last bridge of the Shimanami Kaido takes us across to the Shikoku mainland and Dogo Onsen, one of the oldest hot spring towns in Japan. The atmospheric building containing the original onsen thermal hot spring baths here was an inspiration for Hayao Miyazaki in the creation of his film Spirited Away. We enjoy a relaxing soak in the baths before dinner in our accommodation, a delightful modern-style Japanese inn.


Accommodation: Japanese inn.
Meals: Breakfast, lunch & dinner provided.





Day 9 Dogo Onsen – Ozu – Dogo Onsen


We send our main luggage by overnight courier to our hotel in Hiroshima on Day 10 before travelling inland to Ozu, a delightful yet little-known small rural town that once flourished as a major centre of candle wax production. This industry no longer exists here but the wealth it once brought to Ozu is apparent in its charming period streetscape, which largely avoided the ravages of war and modernity. In recent years, efforts to restore and sensitively repurpose buildings are bringing a much needed revival to the local community.



On the edge of the town on a bluff overlooking a river is the beautiful Garyu Sanso, comprising a villa, tea house and gardens that were completed in 1907 for Torajiro Kouchi, a wealthy local merchant. Kouchi employed Japan's top craftsmen on a labour of love over a ten-year period, creating a subtle masterpiece composed of traditional architecture, gardening and crafts unlike anything else found elsewhere in Japan. Our guided visit allows us plenty of time to appreciate the vision of Kouchi and the skills of the craftsmen embodied in Garyu Sanso and to soak up the tranquil, almost delicate atmosphere.



Before returning to our hotel we visit a small museum that celebrates the life of Juzo Itami, who wrote and directed wryly humorous and insightful films on his fellow Japanese including The Funeral, Tampopo, and A Taxing Woman.



Dinner is not included tonight but your tour leader will be on hand to advise on and settle you in to the restaurant of your choice.


Accommodation: Japanese Inn
Meals: Breakfast & lunch provided.




Day 10 Dogo Onsen – Matsuyama – Hiroshima


After breakfast in our accommodation, we make our way to Matsuyama's port to catch a Super Jet Ferry, which whisks us back across the Inland Sea to Hiroshima. Here we transfer to Miyajima, an island famed for its ancient shrine built out over the sea. This is also where Donald Richie completed his journey through the Inland Sea.



We return to Hiroshima, a vibrant city that belies its tragic past, to check into our hotel before regrouping for our final evening meal of the tour.


Accommodation: Hotel
Meals: Breakfast & dinner provided.




Day 11 Hiroshima

We round up our tour with an early morning visit to the Peace Park, the design of which was entrusted to Kenzo Tange. His Hiroshima Peace Memorial Museum, found within the park, set the tone for modern post-war architecture in Japan. We also include a walk across the bridge, which was rebuilt according to designs by Isamu Noguchi, and learn how his design for the park's cenotaph became the basis for the final version realised by Tange.



The tour finishes back at our hotel. Onward transport to Fukuoka, Osaka, Kyoto, Nagoya and Tokyo is easily made by shinkansen bullet train or by air from Hiroshima Airport.


Accommodation: N/A.
Meals: Breakfast provided.



This itinerary is subject to change.



The itinerary for the Inland Sea Odyssey is ground-only, beginning in Himeji and ending in Hiroshima.



The airports closest to the tour start are Kansai International Airport and Hiroshima Airport. The journey is also easily made from Fukuoka Airport, Nagoya's Central Japan Airport, and Tokyo's Narita and Haneda International Airports.
-----
FROM OSAKA'S KANSAI INTERNATIONAL AIRPORT (KIX)
JR Haruka Express trains depart for Shin-Osaka Station. Transfer here to the shinkansen bullet train for Himeji. The total journey is approximately 1 hour 40 minutes.
-----
FROM HIROSHIMA AIRPORT (HIJ)
Buses depart every 60-120 minutes for Fukuyama Station. Change here to the shinkansen bullet train for Himeji, which is approximately a 50-minute journey.
-----
FROM FUKUOKA AIRPORT (FUK)
A taxi from Fukuoka Airport's International Terminal is the simplest and, at 10 minutes, the fastest way to travel to Hakata Station, Fukuoka's main station. Transfer here to the shinkansen bullet train for Himeji, which is approximately a 2 hour 10 minute journey.
-----
FROM NAGOYA'S CENTRAL JAPAN INTERNATIONAL AIRPORT (NGO)
Meitetsu trains depart for Meitetsu Nagoya Station. Change to the neighbouring JR Nagoya Station for onward journey by shinkansen bullet train to Himeji. The total journey is approximately 2 hours.
-----
FROM TOKYO'S HANEDA AIRPORT (HND)
Tokyo Monorail trains depart for and terminate at Hamamatsu Station. Transfer here to the trains on either the JR Yamanote or JR Keihin-Tohoku Lines for Tokyo Station. To Himeji from Tokyo Station please see the section below.
-----
FROM TOKYO'S NARITA AIRPORT (NRT)
JR Narita Express (NEX) trains depart every 30 minutes for Tokyo Station. To Himeji from Tokyo Station please see the section below.
-----
FROM TOKYO STATION
The journey to Himeji is made on the JR Tokaido Shinkansen, one of the super-fast bullet train lines. Departures are every 10-20 minutes and the journey is approximately 3 hours 10 minutes. 



The pre-tour pack includes detailed instructions, including a map, for travel to the accommodation at the start of the tour.