A walk from hot spring to hot spring in charming, rural Oita.
Guided, gentle walking and cycling following trails through varied terrain to Beppu in Oita Prefecture in Kyushu. Gorgeous valleys, a pretty plateau, soaring mountain scenery, and seaside. Various and myriad onsen hot spring baths in our accommodation; and multi-varied, opulent cuisine.
Year-round.
The Oita Hot Spring Trail is a fully guided tour suitable for reasonably fit people who can walk comfortably for 4 hours a day. The route is mainly on grassy paths, forest trails, gravel tracks, quiet country roads and a cycle path, where we use bicycles to make our way. It is mostly even underfoot and the terrain is either over gently inclined or rolling countryside. There are a couple of steeper climbs but these are completed in five minutes or less. Please read more on Tour Levels here.
A six-day, five-night tour starting at Fukuoka's Hakata Station and finishing at Beppu. Accommodation is typically in Japanese inns with onsen hot spring baths. The small, intimate nature of the tour makes the maximum group size 12 people. We have no minimum size. If we accept a booking we guarantee to run the tour.
This fully-guided tour introduces Oita Prefecture, an area of Japan particularly rich in the beauty of its countryside, its high quality and varied food, its ancient and somewhat different culture, its enlightened history and its relaxed, friendly people. To its list of attractions Oita also adds
onsen
, hot spring baths fed by waters derived from volcanic activity deep below the earth's surface.
Onsen are a feature found throughout the length and breadth of Japan. Oita, however, boasts the largest concentration of hot springs and they in turn are fed by the greatest volume of hot spring water. Here they come in many different guises; some are clear and others murky, some pungent while others fizzy. Undoubtedly, Oita is the onsen capital of Japan, if not the world. It is a mecca for anyone who likes to indulge in the soothing and relaxing waters hot springs and also enjoy the distinctive and gracious Japanese culture associated with bathing.
Onsen are enjoyed for their therapeutic, relaxing qualities and are one of Japan's great attractions; a perennial favourite amongst both the Japanese and overseas visitors. Buddhism, which first arrived in Japan in 552, used onsen for purification rites. To this day bathing in Japan remains a ritual, an art distinctly Japanese. Throughout this tour we luxuriate morning and evening in hot springs. On some days we also waylay ourselves at onsen for a quick dip as we make our way through the verdant Oita countryside.
Our route, which covers gentle terrain and is suitable for almost any walker, takes us through countryside lush with forest and farmland. On one occasion we take to bicycles for an easy ride along a dedicated cycle path. We make our way through valleys threaded by sparklingly clear rivers to historic towns, past farmhouses and their neatly tended fields to spectacularly sited temples and, of course, hot springs. We cross over a high plateau to a Ramsar listed wetlands and bird sanctuary in the foothills of the Kuju Mountains. We see water vapour, a sign of seismic activity and onsen, issuing in the far distance from a volcano; closer to hand billowing from Japan's largest geothermal power plant; and seeping out from the road right under our feet.
In the expert company of the Walk Japan Tour Leader, we are immersed in the Japanese way of bathing and onsen, the beautiful countryside of Oita, its rural lifestyle and historic culture. Each evening our accommodation is in top-class inns with onsen where we enjoy sumptuous Japanese cuisine created from local produce harvested from Oita's seas, fields, forest, rivers and mountains.
The tour starts at 2.30pm at Fukuoka's Hakata Station, where the Walk Japan tour meets the group. A stylish express train whisks us quickly into the rural interior of Kyushu and Yabakei, a beautiful rural area riven by forested valleys. We visit the historic quarters of Hita and Taketa. The former was once a powerful stronghold of the samurai shogun, a city of Kyoto-style refinement and education. The latter is a charming town still dominated by the towering ramparts of Oka-jo, a strategic hill-top castle. We stay in Nagayu, a bucolic hot spring village known in particular for its extraordinary Lamune Onsen, a carbonated hot spring housed in one of the most interesting architectural structures found in Japan. We complete our journey together aside the sea in Beppu, Japan's preeminent hot spring resort.
Important:
Please note that in Japan it has traditionally been the custom not to allow anyone with tattoos to use public baths including onsen. Although this custom is currently being relaxed entrance is at the discretion of each establishment. Access, however, is usually allowed at additional cost to
kazoku-buro
private bathing facilities, which are found at many onsen, for anyone including those with tattoos.
Price:
From JPY316,000 (JPY = Japanese Yen) per person. Single accommodation is available on a limited basis at JPY25,000. Please contact us for further details. Please use the currency converter on the right-hand side of this page to find the current rate in your local currency. See
Booking Conditions
.
What is included and not included?
A fully guided tour including local travel from tour meeting point at Hakata Station in Fukuoka to tour finish point in Beppu; accommodation for 5 nights; 5 breakfasts, 1 lunch & 5 evening meals; baggage transfers and entrance fees. Not included are flights; transport to the tour meeting point at Hakata Station in Fukuoka and from tour finish point in Beppu; lunches and drinks.
The itinerary for the Oita Hot Spring Trail is ground only beginning in Fukuoka and ending in Beppu. After receiving the booking form and deposit we will provide detailed instructions for travelling to the meeting point in Fukuoka.



Day 1 Hakata – Nakatsu

The tour group meets at 2.30pm in Fukuoka at Hakata Station before travelling 1.5 hours on the Sonic Express train to Nakatsu in Oita Prefecture. From here we travel 30 minutes by private-hire vehicle to Yabakei, where we stay the night in the surroundings of a delightful, onsen thermal hot spring accommodation. Yabakei is known for its picturesque valleys, verdant forests, sparkling streams and, of course, its many onsen.



After checking in we have time to immerse ourselves in the onsen baths. Refreshed, we enjoy a sumptuous welcoming banquet.



Accommodation: Japanese inn with onsen thermal hot spring baths.
Meals: Dinner.
Total walking: N/A.
Total elevation gain: N/A.





Day 2 Yabakei – Yamaguni – Hita

After breakfast we make a short journey by vehicle to Ao-no-domon in the heart of the Yabakei region. We pick up bicycles, which are our modus operandi this morning for our leisurely journey over flat terrain through the area. After negotiating tunnels built by hand over thirty years by a monk we make our way to Rakkan-ji, a temple spectacularly sited high up on the side of Mt. Rakkan. For those who do not want to make the climb on foot over steps hewn out of the rock, a chairlift carries us up to the temple's main buildings, which are interwoven into caves.



A second section of the chairlift brings us to the summit that affords a spectacular panorama over Yabakei. Returning to our bicycles, we set off along a valley to Yamakuni in the path of a railway that once threaded its way up the valley. Closed in 1975, the route of the old line was used to create a charming cycle way, providing us with a gentle incline to our two-wheeled journey's end at Morizane Onsen and the intriguing Core Yamakuni civic facility, a suprisingly extravagant, shimmering work of architecture to find in rural Japan. We leave our bicycles here before visiting the nearby local onsen to refresh ourselves and enjoy lunch.



We rejoin our vehicle for transfer to one of the oldest sections of ishidatami stone-paving in Kyushu, the Hita Okan. This time we walk in the steps of the leading samurai of the Edo Period and his cohorts. We follow this road first on foot and then by our vehicle into Hita, a town at the geographical heart of Kyushu that once served as the shogun's most important stronghold on the island. We explore the old town and learn about its strategic importance.



We relax in the local onsen baths before eating dinner at a nearby restaurant.



Accommodation: Hotel.
Meals: Breakfast, lunch & dinner.
Total walking: 3km (1.8 miles).
Cycling: 20km (12.5 miles).
Total elevation gain: 320m (1,050ft).



Day 3 Hita – Handa Kogen - Nagayu Onsen

After breakfast we transfer to Yume-no-Ohashi, a suspension footbridge and the start point of our walk today over the Hanada Kogen plateau to Chojabaru. The bridge spans a gorge into which flow two waterfalls. As we cross, we pass tourists who have come for the attractive views, but as we move along on our path we quickly find ourselves deep in quiet forests with few visitors, from which we reemerge at a farm shop that sells delicious home-made ice cream.



We relax here awhile, enjoying the views that have now opened up to us across the plateau to the towering mountains of Kuju. Chojabaru in the foothills of Kuju marks the end of our walk today, and en-route we follow a leisurely path over either flat or gentle rising terrain through picturesque market garden farms, grasslands and forests. Part-way, an onsen provides us with a delightful way to refresh ourselves before lunch in the neighbouring restaurant.



At Chojabaru, a vehicle takes us along the roads around the Kuju mountains to our accommodation, a delightful inn aside a river at Nagayu Onsen. We stay here for the next two nights.



We are now well practiced in our evening routine; a leisurely soak in our inn's onsen baths followed by a delightful evening. However, tonight after dinner we also have the added attraction of nearby Lamune Onsen known for its unusual, fizzy waters. A fantastic spectacle, the baths themselves are housed in equally intriguing buildings designed by Terunobu Fujimori, one of Japan's lesser-known but no less great architects.



Accommodation: Japanese inn with onsen thermal hot spring baths.
Meals: Breakfast & dinner.
Total walking: 12 km (7.4 miles).
Total elevation gain: 342m (1,122ft).



Day 4 Nagayu Onsen – Asaji – Taketa – Nagayu Onsen

We transfer by private-hire vehicle to Asaji and the beginning of our walk, which follows a mostly gently rising and falling 12km route to Taketa. It includes two steeper sections, but neither of these are long and we can take them at a very leisurely pace. Our route takes us through hilly countryside, past paddy and arable fields and farmhouses with their well-tended gardens and, aside water courses that disappear and reappear through tunnels carved into rock. We are rewarded with spectacular views across valleys as we make our way. At Fuko-ji temple, the scenery suddenly opens up to a giant, fearsome Fudo-Myo deity carved long ago on a cliff face.



Our walk today ends at the remains of Oka-jo castle, and offers a striking contrast to our otherwise rural excursion. Only the ramparts remain, but their scale and impressiveness allude to the power that this hill-top citadel once had.



We have time to explore and relax in Taketa, the small town that developed at the foot of the castle to serve it. Besides some pleasant cafés, Taketa also has interesting boutique shops selling locally made Japanese-made crafts. We transfer back to Nagayu Onsen by taxi for the second night in our inn here.



Accommodation: Japanese inn with onsen thermal hot spring baths.
Meals: Breakfast & dinner.
Total walking: 12km (7.4 miles).
Total elevation gain: 371m (1,217ft).



Day 5 Nagayu Onsen – Bungo Ono – Beppu

After breakfast we wave goodbye to our innkeeper as we depart on a vehicle which stays with us for the day. Today, we explore Bungo Ono, a rural district with such a wealth of geologically interesting sites that it has been designated a Geo Park by the Japanese Government.



Our first stop brings us to the beginning of our stroll. A couple of sub-shrines provide the first indication of what to expect as we make our way over a small hill to the main shrine of the area. The latter is built on a small hill overlooking the horseshoe-shaped waterfalls that are celebrated as a deity. We cross the falls to join part of the Himuku Kaido, an old highway through the area. Today, it has become a quiet, local road, but the buildings aside it and the general ambience provide us with a feel of an older age.



Our destination is a saké brewery. The owner encourages us to sample her excellent range of brews. For those who would rather delay drinking until the evening, the delicious water, which is drawn up from their well and is an essential ingredient in her products, is also available on tap. From here, we transfer by our vehicle to a deep gorge where, weather permitting, we will eat a picnic lunch and cool our feet in the limpid waters.



Finally, we transfer to Beppu. With more hot springs than anywhere else in Japan, it takes the crown as the nation's top onsen destination. We explore the old quarter of Kanawa, where we also spend the night in a local inn. Not only does our accommodation have its own hot spring baths, but onsen literally surround us. Steam emanates from grills in the streets, and above us from towering vents. Locals are to be seen throughout the day to-ing and fro-ing with towels in hand to the many public baths in the neighbourhood.



Accommodation: Japanese inn with onsen thermal hot spring baths.
Meals: Breakfast & dinner.
Total walking: 7km (4.3 miles).
Total elevation gain: 104m (341ft).



Day 6 Beppu

The tour ends after a Japanese breakfast. Travel back to Fukuoka or onward travel elsewhere in Japan by rail from Beppu is easily accomplished. Flights also depart from nearby Oita Airport to Tokyo, Osaka and Nagoya.



Accommodation: N/A.
Meals: Breakfast
Total walking: N/A.
Total elevation gain: N/A.



This itinerary is subject to change.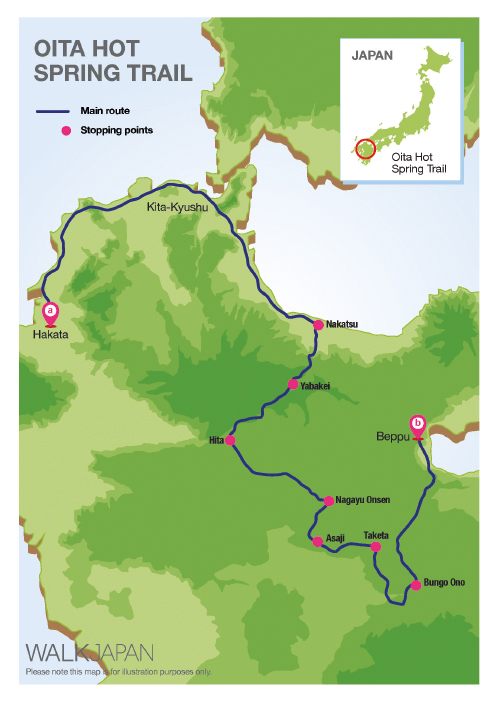 The itinerary for the Oita Hot Spring Trail is ground only beginning in Fukuoka and ending in Beppu.



The airport closest to the tour's start at Hakata Station is Fukuoka International Airport, with domestic flights departing frequently from Tokyo and Osaka's airports.
-----
FROM FUKUOKA INTERNATIONAL AIRPORT (FUK)
From Fukuoka International Airport, please either take the City Subway line, which costs about JPY260 and takes approximately 5 minutes. The journey by taxi costs about JPY1,500 per person and takes approximately 15 minutes.
-----



The Pre-tour Pack includes detailed instructions, including a map, for travel to the accommodation at the start of the tour.



Tour participants are advised not to book themselves out on an early morning flight at the end of the tour, as the journey from Beppu to the nearest international airport takes approximately 2 hours.