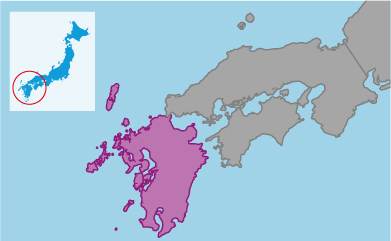 The southernmost of Japan's four main islands, at the western end of the Seto Inland Sea lies Kyushu, the principal gateway to Japan for culture and trade from overseas since the earliest of times. Perhaps because of this foreign influence, from pre-historic continental cultures through the Chinese and Korean to the Portuguese, Dutch and English, it retains a different feel to the rest of Japan. Relics of these influences include ancient tumuli burial mounds, Korean-style pottery, Portuguese and Dutch trading posts, crypto-Christian churches and other-worldly festivals that are quite unlike any others found in Japan. Much to the consternation of Uji near Kyoto, Kyushu has a good claim on having the first tea fields in Japan, which were grown from seed brought from China by Eisai (1141-1215), a Buddhist monk. Kyushu is also home to one of the oldest centres of religion on the Kunisaki Peninsula, where Rokugomanzan, a 1,300 year-old Shinto-Buddhist group, still exists. 'Elsewhere, Amaterasu Okami, the Sun Goddess and progenitor of the Japanese Imperial line, hid in Takachiho and took the sunlight with her in the earliest mythological days of Japan.
Kyushu's principal cities - Fukuoka, Nagasaki and Kita-Kyushu - are in the north while the rest of the island, particularly the centre, is sparsely populated. This leaves much of Kyushu relatively untouched but only easily explored by vehicle. 'Here are found myriad onsen hot spring villages and towns; verdant forests; spectacular views across Aso, one of the world's largest calderas; landscapes akin to those on the moon on the many active volcanoes; and Sakurajima, which erupts so regularly that the locals seem barely to give it a second thought.
Kyushu also encompasses many islands, including the Amakusa and the sub-tropical Amami-Oshima chains. Just north of the latter lies Yakushima, one of the wettest places on earth, known for its ancient giant cedar trees, and Tanegashima, where Japan's space centre is located. Further south lie the Okinawa, or Ryukyu, Islands.
With its southern aspect, it is unsurprising that many Japanese from elsewhere mistakenly believe Kyushu to have a charmed, warm Pacific climate. While in the south and west of the island this reality does largely conform to commonly held perceptions, the centre and north can become cold in winter with heavy snowfalls; there are even some ski areas. Unlike the north of Japan, however, the season is short, the snow does not remain too long and the rest of the year is generally comfortably warm.
Finally, Kyushu boasts perhaps the most attractive trains in the whole of Japan. Not only they are clean and run on time, as with practically all the nation's railways; they also comprise the most interestingly designed rolling stock found anywhere, including the Sonic Express; Kyushu Shinkansen; the ultra-luxurious Nanatsuboshi Seven-Star and its smaller sibling, the glorious Aru Ressha Sweets & Gourmet Train.