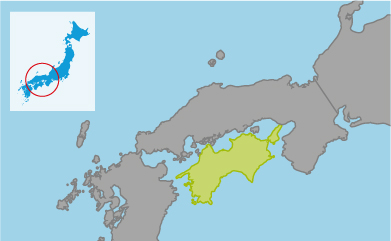 The smallest of Japan's four main islands, Shikoku is a largely mountainous, rural region with a warm climate and far milder winters than in north Japan. It is principally famous for the 1,200 km 88 Temple Pilgrimage, associated with the Buddhist monk Kukai (774-835), that circles the whole island. The pilgrimage is traditionally completed on foot, but modern pilgrims, who are known locally as henro, also use cars, taxis, buses, motorcycles or bicycles to complete their pious journey. Regardless of how they travel, however, the henro, with staff in hand and wearing their distinctive white garb and conical sedge hats, are affectionately welcomed by the people of Shikoku who ply them with osettai snacks to help them on their way.
Shikoku is so firmly associated with the pilgrimage that its other attractions often struggle to be noticed. However, these include the splendid Shimanto River, Japan's last remaining major river not to be dammed; the Iya Valley with its 'not-for-the-faint-hearted' rope bridge spanning a deep valley; Takamatsu, a charming regional town that is home to Ritsurin, one of the best examples of a Japanese garden; Matsuyama Castle; Dogo Onsen hot springs; and Kompira-san, a shrine that has long been a popular place of worship among the islanders and sailors of the nearby Seto Inland Sea.
As large parts of the Seto Inland Sea fall under the administrations of Ehime and Kagawa Prefectures in north Shikoku, we are including it in this section. This sea region, besides being one of the driest and sunniest areas of Japan, is a treasure trove of history, art, charming islands, spectacular views and modern art and architecture. The latter includes Bennesse, a spectacular art and hotel complex on Naoshima. The area is also home to some of Japan's greatest structures, such as the Seto Ohashi Bridge, which affords fabulous views over the Sea on the train which journeys from Okayama in West Honshu to Takamatsu.
Shikoku is well-known amongst the Japanese for what it does not have: top-division teams for the nation's premier sports of baseball, soccer and rugby; and volcanoes.