A moderate walking tour of the 1,200km Shikoku 88 Temple Pilgrimage.
Guided walking following pilgrimage trails linking some of the famed 88 temples on Shikoku. Follow centuries-old pilgrimage paths through picturesque scenery. Accommodation in temples and inns, onsen thermal hot spring baths and local cuisine.
March - June & September - November.
The Shikoku Temple Pilgrimage is a fully-guided tour suitable for anyone who is an occasional walker and can walk for more than three to four hours in comfort. In general, the route is gently undulating but also includes some steeper climbs of an hour or more. Please read more on Tour Levels here.
An 11-day, 10-night tour starting in Tokushima and finishing in Takamatsu. Tour accommodation is in hotels, Japanese inns and pilgrims' lodgings. The maximum group size for this tour is 12 persons. We have no minimum size. If we accept a booking we guarantee to run the tour.
The Shikoku Temple Pilgrimage tour takes us to Japan's fourth main island to explore Shikoku, a sparsely populated and beautiful, rural region. We traverse it by following part of the 1,200 year old 88 Temple Pilgrimage dedicated to Kukai (774-835AD) - a.k.a Kobo-Daishi, a salient and still greatly revered figure in Japanese Buddhism.
The 88 Temple Pilgrimage, one of the oldest pilgrimages in the world, is completed by journeying from one charming temple to the next strung out along its circular route. The whole pilgrimage stopping at each temple takes 40 days or more. During our 11-day tour we visit 27 temples on a route that leads us to the rugged, cliff-lined shores facing the Pacific Ocean, to Shikoku's interior of towering mountains and deep valleys, and to the coastal plains abutting the Seto Inland Sea. Our physical journey covers over 1,000km (622 miles) but it is also a quest into the extramundane, into a metaphysical world eons old. In the words of Kukai: '
On the way of the 88 Temples, anyone that you meet, anyone that you hear, anyone that you see; they are all manifestations of Buddha. Learn from their strengths and reform your own shortcomings. Whether sick or healthy, rich or poor, you will be saved through Buddha's compassion and through the practice of faith and asceticism.
'
Kukai founded the Shingon Buddhist sect, which has its spiritual centre at Mt. Koyasan near the old capital of Nara. After his death in 835AD, Shingon adherents created the 88 Temple Pilgrimage by linking temples and other sites related to their spiritual leader, who was born on Shikoku. Since then many tens of thousands of pilgrims, known locally as
O-henro-san
, have made the journey. Distinctive in their garb of white clothes and sedge hat with walking staff in hand, they are a familiar sight in Shikoku to this day and an inseparable part of the local society and culture. Whether making the pilgrimage for ascetic, pious or tourist reasons, as a matter of course townspeople and villagers provide a warm welcome to all walkers, proffering a plentiful supply of tea and food as sustenance. Today, the pilgrimage is made by many different modes of transport including car, bus, taxi and bicycle. We combine some of these with the traditional method on foot as we join pilgrims on their journeys.
The Shikoku Temple Pilgrimage tour follows some of the most scenic, best-preserved and enjoyable sections of the famous 88 Temple Pilgrimage. Daily walking distances vary between an easy 9km through to a moderate 18.5km following mountain trails and pavement. There are several passes, some steep and long but these, as with all the walking, are climbed at a comfortable pace. If required, onward transport can usually be arranged for those who desire a more relaxed time. Each day our main baggage is sent ahead by vehicle so we need only take what we need each day in a small back pack.
We meet in Tokushima, on Shikoku's Pacific coast, to travel through the rural heart of Shikoku, before finishing our journey in Takamatsu on the placid Seto Inland Sea. Walk Japan provides tour participants with easily followed, detailed instructions on how to join and leave the tour.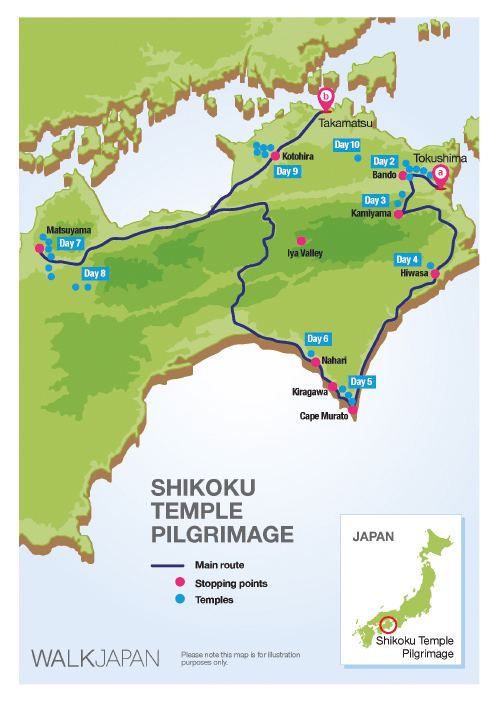 The itinerary for the Shikoku Temple Pilgrimage tour is ground-only, beginning in Tokushima and ending in Takamatsu. Prior to the tour, Walk Japan will provide detailed instructions for travelling to the meeting point in Tokushima from Osaka's Kansai Airport (KIX), and Tokyo's Narita (NRT) and Haneda (HND) Airports.



Day 1 Tokushima

We meet in Tokushima in the lobby of our accommodation at 6:00pm for the tour briefing, which is followed by dinner with your Walk Japan tour leader. A nearby izakaya, a hospitable and popular restaurant, provides an atmospheric venue to begin our tour together.



Accommodation: Hotel.
Meals: Dinner provided.
Total walking: N/A.
Total elevation gain: N/A.




Day 2 Tokushima – Bando – Anraku-ji

Temples 1, 2, 3, 4, 5 & 6.

After breakfast in our hotel, we start our journey through open countryside aside the Yoshino-kawa River. After arrival at Bando a short stroll brings us to Ryozen-ji, the first temple of the Pilgrimage's 88 temples. In preparation for their journey, here many new arrivals acquire the distinctive pilgrims' accoutrements of white garb, sedge hat, walking staff and praying beads. We may also add to our walking gear if we wish before setting out on the first leg of our pilgrimage. A generally flat route today, we wend our way past paddy fields, plum orchards and market gardens. A towering ancient kusunoki camphor tree guides us on our way.



We stop for lunch near Konsen-ji, the third of the 88 temples. Lunch options include udon wheat noodles, a popular Shikoku speciality, and dining al fresco with morsels bought in the local shops. Replete, we continue on to Anraku-ji, the sixth temple. We stay here tonight in the temple's shukubo pilgrims' lodging, which boasts onsen thermal hot spring baths. Onsen are a lovely way to relax and refresh ourselves before a delicious dinner.



Accommodation: Shukubo lodging.
Meals: Breakfast & dinner provided.
Total walking: 10.6km (6.6 miles).
Total elevation gain: 100m (328ft).




Day 3 Anraku-ji – Shosan-ji – Kamiyama Onsen

Temples 11 & 12.

We breakfast in our accommodation before transferring to Fujii-dera, 11th of the 88 temples. En route, we buy items for a picnic lunch to eat later on. Today's walk is through forests and includes some of the longest and toughest mountain trails up and over three peaks, a section that is colloquially known as henro-korogashi, the pilgrim tumbler. Small shrines, placed either side of the path, guide us on our way.



Ipponsugi-an, a huge and ancient sugi cedar tree, under which serenely stands a statue of Kobo Daishi, Kukai's posthumous deified form, is another marker on our route. We pass through a delightful farming hamlet before finally arriving at Shosan-ji, the 12th temple. Shosan-ji is in a spectacular setting surrounded by old and venerable sugi trees.



From here, we transfer by vehicle to Kamiyama, a beautiful village surrounded by mountains. Suitably inspired by its setting, the village's name means 'Mountains of the Gods'. We spend the night here in a small, comfortable onsen resort that combines both Japanese and Western-style accommodation. Dinner is a traditional Japanese kaiseki banquet, composed of many delicious dishes.



Accommodation: Hotel with onsen thermal hot spring baths.
Meals: Breakfast & dinner provided.
Total walking: 12km (7.5 miles).
Total elevation gain: 1100m (3,609ft).



Day 4 Kamiyama Onsen – Hiwasa – Cape Muroto

Temple 23.

Breakfast followed by vehicle transfer to Hiwasa, a small, sleepy harbour town on the Pacific Ocean coast. We begin today's walk here with a short climb that leads us to the 23rd temple, Yakuo-ji. Within the temple precincts is a striking red and white pagoda and we are also provided with views over the town and beyond to the Pacific.



From here our route is a meandering and undulating cliff path through forests following the Pacific coast, composed of wind and wave-battered cliff crags. Occasionally, gaps in the trees afford us spectacular views to sandy beaches nestled into inlets and rocky islets dotting the expansive blue ocean.



We rejoin our vehicle for onward transfer to Cape Muroto and our accommodation. Dinner is a feast of seafood with an emphasis on bonito, the area's speciality.



Accommodation: Hotel.
Meals: Breakfast & dinner provided.
Total walking: 6.7km (4.2 miles).
Total elevation gain: 277m (909ft).



Day 5 Cape Muroto – Kiragawa – Nahari

Temples 24, 25 & 26.

We set out walking from our accommodation for Mikuro-do, a cave where Kukai meditated for three years as a young man. Here he also derived for himself his name Kukai, the Chinese characters of which read Sky and Sea; all he could see from where he sat. From here we follow the Pilgrimage over a lava rock coast of the Cape before climbing to Hotsumisaki-ji, the 24th temple. Great views to the Pacific's horizon open up before us we descend back to coast and the town of Muroto. Entering a quiet residential area we approach the 25th temple, Shinsho-ji.



Another climb brings us to Kongocho-ji, number 26. A short drive follows to Kiragawa, a once-prosperous charcoal-making town. Today, the town is known for its distinctive sturdy stone wall and multi-roofed buildings that protect against the typhoon rains that blow through the area from time-to-time. Tonight we stay in Nahari, a short transfer away. Our accommodation is a Western-style hotel with delightful baths, one of which is open-air.



Accommodation: Hotel.
Meals: Breakfast & dinner provided.
Total walking: 12.6km (7.8 miles).
Total elevation gain: 353m (1,158ft).





Day 6 Nahari – Konomine-ji – Iya Valley

Temple 27.

This morning we set off early for vehicle transfer to the foothills below the 27th temple, Konomine-ji. Our walking is light today but here we do negotiate a steep climb, taking about 90 minutes, that leads us up 400m to the temple. Our vehicle is waiting for us at the top for our onward journey into the interior of Shikoku to Iya-dani, a remote valley set deep in high mountains. We lunch at an excellent noodle restaurant en route to Iya-dani, where we visit Kazura-bashi, a bridge made of vines. Our accommodation for the night, a delightful Japanese inn with impressive onsen baths, is nearby.



Accommodation: Japanese inn with onsen thermal hot spring baths.
Meals: Breakfast & dinner provided.
Total walking: 5km (3.1 miles).
Total elevation gain: 400m (1,312ft).




Day 7 Iya Valley – Yasakai-ji – Dogo Onsen

Temple 46 & 47.

Our private-hire transport takes us into the mountains surrounding Matsuyama and the beginning of our walk to temples 46, Joruri-ji, and 47, Yasaka-ji. Descending from the Misaka Pass we follow the pilgrims' route through cedar forest at first, then gently wend our way past paddy fields and farmhouses before entering the suburbs of Matsuyama. Each temple provides intriguing sights but Yasaka-ji, number 47, has perhaps the most unusual; a road to Heaven and a road to Hell with suitable depictions of each and advice on how to follow the former.



We rejoin our vehicle for the short journey to Dogo Onsen, one of the oldest onsen towns in Japan. The hot spring baths here are a heavenly welcome as we relax before dinner in our lovely accommodation, a traditional Japanese inn, where we spend two nights.



Accommodation: Japanese inn with onsen thermal hot spring baths.
Meals: Breakfast & dinner provided.
Total walking: 9.5 km (6 miles).
Total elevation gain: 20m (70ft).




Day 8 Dogo Onsen – Iwaya-ji – Dogo Onsen

Temple 51, 44 & 45.

After visiting temple number 51 in Dogo, we set out on today's journey to Kuma Kogen, a plateau about 500m high. Soon after starting our walk we arrive at Daiho-ji, temple number 44. From here, we take a mountain path walking through sugi forests up over a high pass. Descending through Kawai, a hamlet that used to provide accommodation to pilgrims of old, we negotiate Hatcho-zaka, a steep climb and descent on narrow paths before arriving at Iwaya-ji, temple 45. The temple is in a spectacular setting crowded in by towering cliffs with views across valleys to neighbouring mountains. Optional transport by vehicle is available for those who would prefer a more relaxed day.



We transfer by vehicle back to Dogo Onsen and our accommodation of the previous night. Tonight we bathe at the famous Dogo baths housed in a spectacular period building. Dinner is not included tonight but your tour leader will be on hand to advise on and settle you in to the restaurant of your choice.



Accommodation: Japanese inn with onsen thermal hot spring baths.
Meals: Breakfast provided.
Total walking: 9.1km (5.7 miles).
Total elevation gain: 580m (1,900ft).




Day 9 Dogo-Onsen – Zentsu-ji – Kotohira

Temple 71, 72, 73, 74 & 75.

This morning we travel by vehicle to Zentsuji, the birthplace of Kukai. The town developed around and took its name from temple 75, Zentsu-ji, the last of five temples we visit today.



A climb up several flights of stairs totalling 300 steps leads us up through the terraced levels of Iyadani-ji, temple 71, before reaching its main hall. A long climb but one that provides us with spectacular views back across the surrounding countryside. Mandara-ji, temple 72, follows before we walk to Shutsushaka-ji, temple 73, and Shashin-ga-take Zenjo, a precipice. Here legend has it that at the age of seven, Kukai climbed these cliffs and, vowing to save all beings, he leapt from the top saying, 'If my desire is fulfilled, the Buddha will save me. If not, I will die.' Saved, Kukai went on to live for another 54 years.



We enjoy our picnic lunch in the precincts before walking on via Koyama-ji, temple 74, to Zentsu-ji, temple 75. As the birthplace of Kukai Zentsu-ji is now, unsurprisingly, a huge temple precinct dotted with many buildings and ancient trees. Shops lining the route to the main gate sell katapan biscuits, a local delicacy. From here a short journey in our vehicle brings us to Kotohira, a small town known in Japan for its onsen and Konpira-san, Shikoku's largest Shinto shrine complex. We stay the night here in a modern Japanese inn.



Accommodation: Japanese-style hotel with onsen thermal hot spring baths.
Meals: Breakfast & dinner provided.
Total walking: 8.8km (5.4 miles).
Total elevation gain: 120m (390ft).




Day 10 Kotohira – Okubo-ji – Takamatsu

Temple 88.

After breakfast, we walk up the 785 steps that lead to the main shrine of Konpira-san.



We transfer by vehicle to the last leg of our tour, a mountain path leading up and over to Okubo-ji, the 88th and final temple of the Pilgrimage. A vehicle from here takes us to the coast of the Seto Inland Sea and Takamatsu, where we stay tonight. Our final dinner of the tour together is a celebration of the completion of our pilgrimage and tour.



Accommodation: Hotel.
Meals: Breakfast & dinner provided.
Total walking: 7km (4.3 miles).
Total elevation gain: 710m (2,329ft).




Day 11 Takamatsu

Breakfast provided, after which the tour ends. Your Walk Japan tour leader will help you purchase train or bus tickets for onward journeys within Japan or to your departure airport. Please do not hesitate to make your travel requirements known during the tour.



Accommodation: N/A.
Meals: Breakfast provided.
Total walking: N/A.
Total elevation gain: N/A.




This itinerary is subject to change.




The itinerary for the Shikoku Temple Pilgrimage tour is ground-only, beginning in Tokushima and ending in Takamatsu.



The airport closest to the tour's start at Tokushima is Tokushima Airport. Transport is also easily made from Osaka's Kansai International Airport.
-----
FROM TOKUSHIMA AIRPORT (TKS)
Domestic flights between Tokyo's airports (Haneda and Narita Airport) and Tokushima Airport take approximately 1 hour 20 minutes. Airport limousine buses depart from here to Tokushima Station. The journey costs JPY440 per person and takes approximately 30 minutes.
-----
FROM OSAKA'S KANSAI INTERNATIONAL AIRPORT (KIX)
From Osaka's Kansai International Airport, JR Haruka Express trains depart for Shin-Osaka Station. Transfer here to the Tokaido Shinkansen bullet train for Okayama. At Okayama, transfer to the limited express for Tokushima Station. From here a local train and a short walk or taxi ride from here to your accommodation. The journey takes approx. 4.5 hours and costs around 13,500 JPY per person.



The pre-tour pack includes detailed instructions, including a map, for travel to the accommodation at the start of the tour.



Tour participants are advised not to book themselves out on an early morning flight at the end of the tour, as the journey from Takamatsu to the nearest international airport takes approximately 3 hours.