A walking tour following paths once trod by monks in Kyushu.
Guided exploration of the Kunisaki Peninsula, one of Japan's hidden gems; excellent walks along ridge trails once used by Buddhists monks in meditation in beautiful and remote countryside; atmospheric inns, ample and delicious cuisine, onsen thermal hot spring baths.
March - June & September - November.
The Kunisaki Trek is a fully-guided tour that we recommend for the reasonably fit who can walk comfortably for five to six hours. The route is mainly on forest trails and includes some rock scrambling and some short, steep climbs. If you would prefer a more relaxed experience of Kunisaki please see our Kunisaki & Yufuin Walk and Kunisaki Retreat tours. Please read more on Tour Levels here.
A 10-day, 9-night tour starting in Fukuoka and finishing in Yufuin. Accommodation is in Japanese inns, many with onsen thermal hot spring baths, a temple and a hotel. The small intimate nature of the inns makes the maximum group size 12 people. We have no minimum size. If we accept a booking we guarantee to run the tour.
Walk Japan's Kunisaki Trek follows in the footsteps of monks, who have walked the mountains of the Kunisaki Peninsula for more than a thousand years. Any experienced trekker will thoroughly enjoy the ancient trails, now largely forgotten. These provide excellent walking through sleepy hamlets and verdant forests, along craggy ridges and over towering cliffs. On route we pass many stone Buddha statues, large and small, and the caves where monks once found shelter. As with all our tours, on Kunisaki you will be immersed in Japanese culture of the past and present, enjoy Japanese cooking at its best, luxuriate in hot springs and simply gaze at the beautiful scenery. This, of course, is all with the expert guidance of your Walk Japan tour leader.
The Kunisaki Peninsula is nestled into the western end of Japan's Seto Inland Sea on Kyushu, the most westerly island of the Japanese archipelago. But the peninsula may as well have fallen off the map, for few Japanese and even fewer foreigners know of its existence. Modern Japan has left this quiet haven of rural life largely untouched. It was, though, for many centuries an important centre of Shugendo. Shugendo is a syncretism of the indigenous, animistic Shinto religion and Buddhism brought from China and Korea. Kunisaki's once-powerful religious institutions are long gone, but delightful temples and wayside shrines are some reminders of its deeply religious past.
Mine-iri
, a monk's practice of traversing sacred mountain paths in prayer, has been part of the religious life of Kunisaki since the ninth century. Although now rare, the practice still continues today in Kunisaki, one of only a few places in Japan where it still does so. Our trek follows in the monks' footsteps. Occasionally we pass through picturesque hamlets and temple grounds, but otherwise our trek is largely off-road on little-known mountain paths. The climbs are usually short but they can be steep and require a degree of stamina to reach the peaks. Once there, the rewards include tremendous views and heady thrills as we negotiate narrow ridges and bridges. A reasonable head for heights is necessary.
Just to the south-east of Kunisaki is Yufuin, a small, upmarket town in the shelter of the towering Mount Yufudake, an extinct volcano. Many of Japan's top writers have found, and still find, a haven here to put pen to paper. Perhaps because of this, along with the many onsen hot springs found here, the town boasts some of the finest
ryokan
inns that Japan offers. Yufuin is also ideal for browsing and shopping. We spend two nights here, interspersed with an ascent of Mount Yufudake. Lunch at the top of this mountain is enjoyed with a backdrop of grandstand views over Kunisaki and beyond.
The Kunisaki Trek tour includes some high, narrow ridge trails and short climbs requiring the use of fixed chains. It is recommended for fit individuals who are comfortable with heights. Please contact us for guidance if you are not sure whether this tour is suitable for you.
This itinerary is ground-only, beginning in Fukuoka and ending in Yufuin. Prior to the tour, Walk Japan will provide detailed instructions for travelling to the start point in Fukuoka.



Day 1 Fukuoka – Yamaga

The tour group meets at 2.30pm in Fukuoka before travelling by the award-winning Sonic Express train for a one-and-half-hour journey to Usa (pronounced ousa), the gateway to Kunisaki. From here we travel by taxi to Yamaga, where we will spend the night.



Our accommodation is a small onsen thermal hot spring resort set in verdant countryside. After refreshing ourselves in the hot springs, we enjoy our first sumptuous meal together. Your tour leader provides the tour briefing as we tuck into dishes made from locally sourced ingredients.



Accommodation: Onsen thermal hot spring resort.
Meals: Dinner provided.
Total walking: N/A.
Total elevation gain: N/A.





Day 2 Yamaga – Fuki-ji

After breakfast our main luggage is taken on to our evening's accommodation and all we take with us on our trek is a daypack containing what we need for our walk. A short taxi journey brings us to the start of our first walk and a climb of Mt. Kumo-ga-take, or Cloud Mountain. On a cloudy day, our climb leads us up through mists, through which we catch sight of the first of many ancient Buddhist statues that are a vivid indication of the rich history of Kunisaki. On a clear day, the views afforded across the verdant valleys and mountains of Kunisaki and the rest of Kyushu can only raise our expectations of our trek.



After our climb of Mt. Kumo-ga-take a path leads to the neighbouring peak of Mt. Omoto-san, one of the most sacred mountains in Kyushu. Mt. Omoto-san is the oku-no-in, the remoter interior shrine, of Usa Jingu, one of the least-known but most important Shinto shrines in Japan. A simple rustic shrine building on the peak is in startling contrast to the scale and opulence of Usa Jingu, far below us on a farmed plain at the foot of Mt. Omoto-san.



Our path down to the Jingu follows the route that the shrine priests used over the ages. These days, however, the priests make the trip by car and few others walk this way anymore. Our descent, largely through forests following rough trails and quiet country lanes, brings us to the end of our day's walking at the grand and atmospheric Usa Jingu. The shrine deifies the protector god of Japan, Hachiman, and was also instrumental in the development of Buddhism on Kunisaki.



Another short transfer brings us to our accommodation for the next two nights and the first of our Japanese inns, which are now a feature for the rest of the tour. Set in a delightful rural hamlet, our inn is adjacent to Fuki-ji, a temple that includes one of the simplest and most beautiful Buddhist structures in Japan. Our inn also has onsen thermal hot springs; a great way to relax after our exertions of the day. Dinner, taken in our inn, is a feast of locally caught fish and locally grown farm produce.



Accommodation: Japanese inn with onsen thermal hot spring baths.
Meals: Breakfast, lunch & dinner provided.
Total walking: 11 km (6.8 miles) / 5 hours.
Total elevation gain: 430m (1,410ft).




Day 3 Fuki-ji – Tashibu – Fuki-ji

After a traditional Japanese breakfast, another short minibus ride to Makiodo. Although a rather basic temple building, Makiodo has become a treasure house of Buddhist relics saved from many of the temples that have, over the centuries, fallen into ruin on Kunisaki. It is also the beginning of today's walk, which includes little climbing and takes us through Tashibu-no-sho, a charming village with some of the most picturesque countryside found in Japan. En route we come across stone and wooden Buddhist statues perched in caves overlooking farmland scenery that seems to have changed little since Kunisaki was chosen as a Buddhist centre some 1200 years ago.



Our winding path takes us through forests, over a low mountain ridge, along the edges of paddy fields and past the carefully tended gardens of the local farmhouses before we eventually end up back at our accommodation.



Accommodation: Japanese inn with onsen thermal hot spring baths.
Meals: Breakfast, lunch & dinner provided.
Total walking: 9 km (5.6 miles) / 4.5 hours.
Total elevation gain: 320m (1,050ft).




Day 4 Fuki-ji – Matama

After breakfast at our inn and sending our main luggage on ahead, a minibus takes us on a short journey deeper into the Kunisaki Peninsula. Today, our trek begins aside a remote lake surrounded by spectacular cliffs.



We skirt the lake before following an old trail that winds gently up through a verdant forest that eventually brings us to a secluded, picturesque temple, known in the locality for its lovely gardens that make the most of each season. We rest here a while before descending through more forests to a narrow valley and another delightful temple, a thatched structure at the base of a sheer cliff with a river flowing gently past. The bucolic scene is enhanced by Buddhist deities carved into a large rock lying in the waters. We enjoy lunch in the small neighbouring restaurant.



Our trail this afternoon includes a short but stiff climb, in part with fixed chains to assist us on our way up and over a ridge. A cliff-hugging descent brings us down to a country lane and our last temple for the day. A 45-minute walk from here aside this quiet road brings us to our accommodation and another well-deserved thermal hot spring bath for the night. We enjoy our evening meal, another feast of local produce, together in our accommodation.



Accommodation: Onsen thermal hot spring resort.
Meals: Breakfast, lunch & dinner provided.
Total walking: 11 km (6.8 miles) / 5.5 hours.
Total elevation gain: 510m (1,670ft).




Day 5 Matama – Himeshima

Our main luggage is sent on by taxi. We travel by minibus a short distance to the beginning of Nakayama Senkyo, a ridge climb that takes us up to some spectacular views over the surrounding countryside and the Seto Inland Sea. Today's walk also includes some short climbs with fixed chains to aid passage. Lunch is a delicious bento box.



Beyond here we wind our way up over a pass before descending to a quiet hamlet before meeting our transport to nearby Imi Port. Himeshima, a small island, is 20 minutes away on the ferry and our inn for the night is a short walk from the quay. The island is a delightful place with the main settlement a maze of streets, houses and little vegetable plots. Our dinner is focused on fresh, locally caught fish from some of the best fishing grounds in the Seto Inland Sea.



Accommodation: Japanese inn.
Meals: Breakfast, lunch & dinner provided.
Total walking: 8 km (5 miles) / 5 hours.
Total elevation gain: 530m (1,740ft).




Day 6 Himeshima – Iwato-ji

We return by ferry to Imi Port. After sending our luggage on, we have lunch at a local restaurant-cum-art gallery before catching a local bus to the start of today's trek. We soon pass through the grounds of Kyu-Sento-ji, a once-powerful temple that the monks left many years ago. Little is left of this institution other than stone Buddha statues and hundreds of monks' gravestones. The latter include Ninmon's last resting place. Ninmon was the monk that is reputed to have first brought Buddhism to Kunisaki some 1,100 years ago.



A climb to Itsutsu-ji Fudo shrine provides impressive views across the Inland Sea to Honshu and Shikoku, respectively Japan's first and fourth main islands. We also have a grandstand view of Himeshima. On through forests to Iwato-ji and our accommodation.



Accommodation: Temple or Japanese inn.
Meals: Breakfast, lunch & dinner provided.
Total walking: 9 km (5.6 miles) / 5 hours.
Total elevation gain: 430m (1,410ft).




Day 7 Monjusen-ji – Baien-no-Sato

As usual, our main luggage is forwarded to our evening's accommodation before we start our day with a brief trek up a flight of stairs to Monjusen-ji. Today we pass through virgin forests and cedar plantations before we descend to an old village and join a little-used old track to Futago-ji, the principal temple on Kunisaki.



After lunch we ride a minibus on a short journey to our accommodation. Named after Miura Baien, a local who excelled in philosophy and sciences in the eighteenth century, this modern inn has an unusual addition in his honour; a large 65cm reflecting telescope. More typically, however, of our accommodation on this tour, it also has excellent cuisine and onsen hot spring baths.



Accommodation: Onsen thermal hot spring resort.
Meals: Breakfast, lunch & dinner provided.
Total walking: 7 km (4.4 miles) / 4 hours.
Total elevation gain: 460m (1,510ft).




Day 8 Baien-no-Sato – Yufuin

A shorter day of walking but no less spectacular. First, we make a visit by minibus to Walk Japan's local office, which is in a renovated farmhouse. The office is also at the centre of Walk Japan's Community Project in the area. We walk through this delightful area to see what we are doing to help support and revive the immediate locality while learning about the problems of depopulation and an ageing society. Rejoining our taxi, we travel a short distance to the beginning of our next walk on Mt. Nokogiri-yama, an impressive ridge trek. We finish at the Kumano Magaibutsu, the largest Buddha relief carvings in Japan.



From here we transfer to Yufuin by our minibus to our evening accommodation, an upper-class Japanese inn, with thermal hot spring baths. Here we stay two nights.



Accommodation: Japanese inn with onsen thermal hot spring baths.
Meals: Breakfast, lunch & dinner provided.
Total walking: 7.5 km (4.7 miles) / 4.5 hours.
Total elevation gain: 370m (1,210ft).




Day 9 Yufuin – Mt. Yufu-dake – Yufuin

Transfer to the start of our climb, at 700m, of Mt. Yufu-dake (1,583m). At the mountain's peak, a grand panorama across Kyushu to an active volcano and Beppu Bay awaits us, and makes a wondrous backdrop to lunch. We all head down for our triumphant walk into Yufuin for another night in our delightful ryokan in the middle of town. Reinvigorating thermal hot spring baths here are followed by another Japanese feast for dinner.



Accommodation: Japanese inn with onsen thermal hot spring baths.
Meals: Breakfast & dinner provided.
Total walking: 9 km (5.6 miles) / 6 hours.
Total elevation gain: 800m (2,620ft).




Day 10 Yufuin

The tour ends after a Japanese breakfast. Travel back to Hakata Station or Fukuoka Airport by direct express coach or onward travel elsewhere in Japan by air and rail is easily accomplished. Your Walk Japan tour leader will assist in the purchase of your tickets and make sure you know what to do to complete your journey without a problem.



Accommodation: N/A.
Meals: Breakfast provided.
Total walking: N/A.
Total elevation gain: N/A.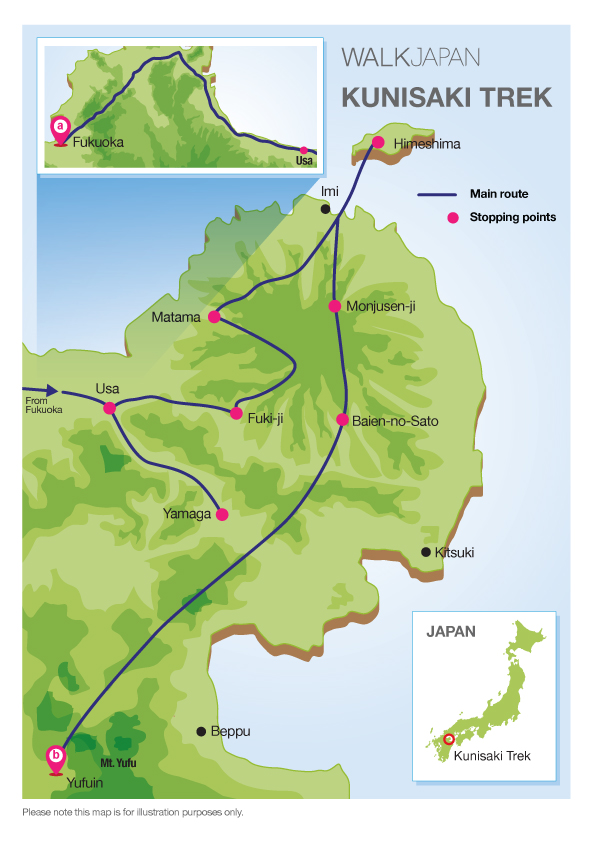 The itinerary for the Kunisaki Trek is ground-only, beginning in Fukuoka and ending in Yufuin.



The airport closest to the tour's start at Hakata Station is Fukuoka International Airport, with domestic flights departing frequently from Tokyo and Osaka's airports. While the group meets at Hakata Station in Fukuoka before transferring to the accommodation, direct access to the accommodation is achievable from Oita Airport. Please contact us for more details.
-----
FROM FUKUOKA INTERNATIONAL AIRPORT (FUK)
From Fukuoka International Airport, please take the City Subway line, which costs about JPY260 and takes approximately 5 minutes. The journey by taxi costs about JPY1,500 per person and takes approximately 15 minutes.
-----



The pre-tour pack includes detailed instructions, including a map, for travel to the accommodation at the start of the tour.



Tour participants are advised not to book themselves out on an early morning flight at the end of the tour, as the earliest bus from Yufuin arrives at Fukuoka Airport at approximately 8.20 am.