A mind and body tour in serene Kunisaki.
Guided tour centred on the spiritual Kunisaki Peninsula with the emphasis on health of mind and body. Yoga, meditation and gentle walks through rural scenery; accommodation in family-run inns, mouthwatering cuisine, onsen thermal hot spring baths.
Year-round.
The Kunisaki Retreat is a fully-guided tour suitable for anyone who can walk up to 5km a day in comfort. It focuses on meditation, gentle exercise, relaxation and learning first-hand some of the traditions that make the beautiful peninsula of Kunisaki so special. It also has excellent local cuisine and a little walking. Our accommodation is in delightful rural Japanese inns.
Please note that the walking is over mostly uneven ground and involves short ascents and descents. Read more on Tour Levels here.
A 7-day, 6-night tour starting at Hakata Station in Fukuoka and finishing at Usa Station on the Kunisaki Peninsula. Accommodation is in Japanese inns. The maximum group size for this tour is 12 persons. We have no minimum size. If we accept a booking we guarantee to run the tour.
Walk Japan's Kunisaki Retreat takes us to the lovely countryside of the Kunisaki Peninsula on Kyushu, Japan's most westerly main island. Little developed, Kunisaki is dotted with sleepy hamlets, covered in verdant forests and paddy fields interspersed with craggy ridges and mountains. It is a delightful area where the pace of life has been left far behind by the frenetic speed found in Tokyo's great metropolis and the country's other cities. As with all our tours, on the Kunisaki Retreat you will be immersed in Japanese culture of the past and present, enjoy Japanese farmhouse cooking at its best, luxuriate in
onsen
thermal hot springs and simply gaze at the beautiful scenery. This, of course, in the expert company of your Walk Japan tour leader.
Kunisaki is nestled into the western end of Japan's Seto Inland Sea. Modern Japan has left this quiet haven of rural life largely untouched and few Japanese, and even fewer foreigners, have heard of it, let alone visited. It was, though, for many centuries an important centre of Shugendo, the earliest form of Buddhism in Japan and quite different to the later arrival, Zen Buddhism. Shugendo is a syncretism of the indigenous, animistic Shinto religion and Buddhism, brought from China and Korea. Kunisaki's once-powerful religious institutions are long gone, but delightful temples, wayside shrines and myriad stone Buddhas offer some reminders of its deeply religious past.
Mine-iri
, a monk's practice of traversing sacred mountain paths in prayer, has been part of the religious life of Kunisaki since the ninth century. Although now rare, the practice still continues today in Kunisaki, one of only a few places left in Japan where it still happens.
Our principal accommodation during the retreat is a lovely inn adjacent to one of the most simple and elegant Buddhist structures found in Japan. The latter houses a representation of
gokuraku jodo
, the Buddhist paradise on Earth, which might perhaps be a suitable metaphor for the Kunisaki Retreat tour. Most mornings start with instructed meditation and yoga sessions, followed by a Japanese breakfast. The meditation is led by our host, who is also the abbot-in-waiting of Fuki-ji. Yoga is taught by a local practitioner who incorporates meditation and other forms of body work into her session. Even a first timer should have no problem joining these sessions.
With its emphasis on local produce and cuisine, eating here – whether breakfast, lunch or dinner – is an experience in itself. The Kunisaki Retreat also features activities such as making
soba
buckwheat noodles,
ikebana
flower arranging,
chado
tea ceremony and Japanese
taiko
drumming. Soba is grown locally and our principal inn specialises in producing some of the best noodles in Kunisaki. Our host will instruct us in the art of soba making; turning a simple ingredient into a delicious and nutritious dish. Chado and ikebana are arts closely associated with Buddhism and meditation.
The Kunisaki Peninsula is crisscrossed with little-used ancient pilgrimage trails and paths once used by monks and the locals. We stroll along some of the easier, less precipitous routes, immersing ourselves in the magnificent scenery of the peninsula, including one of the most picturesque villages in Japan and also the grounds of long-gone temple complex that still retains evocative reminders of its heyday as one of the Peninsula's biggest religious institutions.
Most Kunisaki locals farm on a small scale and usually grow a variety of crops including rice, soba, soybeans, wheat and a myriad of vegetables.
Shiitake
mushrooms,
kabosu
and
yuzu
citrus fruit are also major local crops. Depending on the season, we will participate in planting, harvesting and, of course, eating this produce.
Kunisaki is also the home of Walk Japan's local office and it's Community Project. Our office is a refurbished Japanese farmhouse, a symbol of our project's aim of helping revive this delightful area. We explore the project, learn about the native vegetation, discuss the pleasures and problems of rural life in Japan, have the opportunity to help the locals maintain their fields and forests, and plant native trees to recreate some of the original woodland of the area.
We have created the Kunisaki Retreat for those who like to enjoy Japan in a relaxed fashion while closely interacting with the charming and friendly people of Japan. This is a retreat that includes some walking, which is between one and five kilometres each day.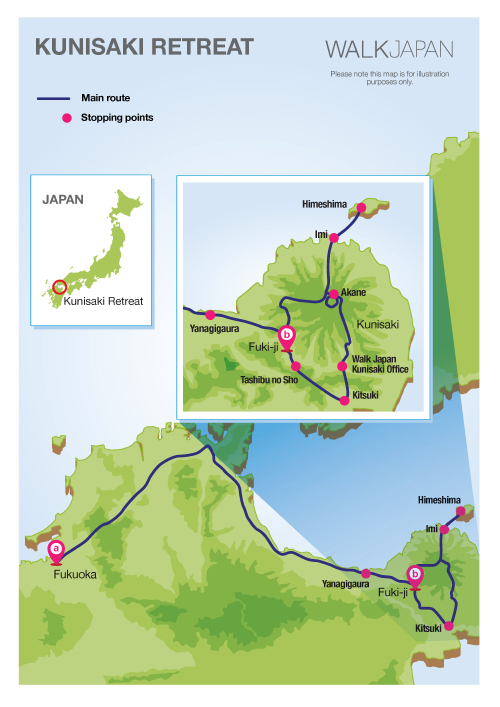 This itinerary for the Kunisaki Retreat is ground-only, beginning at Hakata Station in Fukuoka and finishing on the Kunisaki Peninsula. International flights arrive at Fukuoka Airport. Flight connections to Fukuoka can also be made from Osaka's Kansai Airport (KIX), Tokyo's Narita Airport (NRT), Tokyo's Haneda Airport (HND), and Nagoya's Chubu International Airport (NGO). Prior to the tour, Walk Japan will provide detailed instructions for travelling to the meeting point in Hakata Station.
Please note that the Kunisaki Retreat itinerary includes some activities which are seasonal. Although some activities may not be offered due to the time of year, we have designed the retreat tour to provide a full and enjoyable experience whenever scheduled.
Day 1 Hakata Station in Fukuoka – Fuki-ji
The tour group meets in Fukuoka at 2:30 pm before travelling by the award-winning Sonic Express train for a one-and-half-hour journey to Yanagigaura in Kunisaki. We then transfer by minibus through the beautiful countryside of Kunisaki to our accommodation for the next two nights and the first of our Japanese inns, which are a feature throughout this tour. Set in a delightful rural hamlet, our inn is adjacent to Fuki-ji, a temple that includes one of the simplest and most beautiful Buddhist structures in Japan. Our inn also has the first of many
onsen
thermal hot springs we enjoy through the tour. The onsen is a great way to relax anytime but especially today as we slake our travel fatigue. The tour briefing is held during dinner, which is a feast of locally caught fish and locally grown farm produce.
Accommodation:
Japanese inn.
Meals:
Dinner provided.
Total walking:
N/A.
Day 2 Fuki-ji
Early morning meditation and yoga sessions are followed by breakfast. The rest of the morning is an introduction to a Japanese favourite,
soba
buckwheat noodles. Under the friendly guidance of a local expert, we knead and roll out the soba dough before cutting it into the noodles. Appetites whetted, we turn our handmade efforts into a delicious lunch. In the afternoon, we travel to our local office, a converted farmhouse, and the centre of Walk Japan's community project. We enjoy a gentle stroll through the project area. The paths we follow have been reopened as part of the project and take us on a journey through the serious issues of an ageing and falling rural population, common throughout Japan. It also takes us through the work done by locals and ourselves to revive this beautiful area.
We return to our accommodation for refreshing onsen baths, massages and another sumptuous evening meal.
Accommodation:
Japanese inn.
Meals:
Breakfast, lunch, & dinner provided.
Total walking:
2km (1.2 miles).
Day 3 Fuki-ji – Ota
Early morning meditation and yoga sessions are followed by breakfast. This morning we experience an introduction to the Japanese art of
chado
, the timeless and gentle tea ceremony. While enjoying a bowl of the classic green tea, we learn of chado's simple qualities that take it into the meditative realm. We will also have the opportunity to make tea for each other.
We then transfer to the charming nearby castle town of Kitsuki for a short guided tour around this quiet town's old samurai quarter, featuring buildings from feudal Edo-Period Japan (1603–1868).
Later, we visit a local sake brewery for a look around and a sample or two of the brewer's award-winning products. Upon returning to our inn, a soak in the onsen is followed by another massage and then dinner.
Accommodation:
Japanese inn.
Meals:
Breakfast, lunch, & dinner provided.
Total walking:
2km (1.2 miles).
Day 4 Fuki-ji – Imi – Himeshima
Another early morning start and our now familiar but no less pleasant routine; meditation, yoga and then breakfast. This morning, we experience another classic Japanese art,
ikebana
flower arranging with a local ikebana expert who particularly delights in using local wild flowers and plants. Please note that in some winter months, when wild plants are few,
takezaiku
bamboo weaving replaces ikebana. We then transfer to the north coast of the Kunisaki Peninsula to Imi, a delightful little port town. Imi is a good example of a depopulated town that is finding a degree of success in revitalising itself through art. We lunch at an art gallery and cafe, which has been created within a lovingly restored traditional wooden structure that once used to be the main building of the local sake brewery. After lunch, we have an opportunity to meet some of the local artists and see them at work.
Leaving Imi, we board the ferry for a short journey over to Himeshima, an island in the Seto Inland Sea. Our inn here is a short walk from the quay. The island is a delightful place with the main settlement a maze of streets, houses and little vegetable plots. In the summer months it is possible to swim from Himeshima's sandy and usually empty beaches.
Our dinner is focused on locally caught, fresh fish from some of the best fishing grounds in the Seto Inland Sea. Always a delicious feast, it is served by the inn's very convivial and charming hostess.
Accommodation:
Japanese inn.
Meals:
Breakfast, lunch, & dinner provided.
Total walking:
1km (0.6 miles).
Day 5 Himeshima – Kunimi – Akane
After breakfast we stroll through the neighbourhood to Sennin-do, a small shrine perched atop a cliff overlooking the sea. The shrine's traditional architecture and adjacent pine tree presents us with a classic Japanese scene. En route we will inevitably meet some of the very friendly locals.
A late-morning ferry transfers us back to Imi Port. After a stop at a local supermarket to buy lunch, we transfer by vehicle the short distance to the start of a delightful walk through the grounds of Kyu-Sento-ji, a once-powerful temple that the monks left many years ago. Little is left of this institution other than stone Buddha statues and hundreds of monks' gravestones. We enjoy our bento lunches at Itsutsuji-Fudo, a remaining inner sanctuary of the old temple. At the top of a climb, Itsutsu-ji-Fudo clings to the side of a giant rock and provides us with grandstand views on a clear day over the Seto Inland Sea, Himeshima, Honshu and Shikoku. The latter two are, respectively, Japan's first and fourth main islands. For those who would rather not make the climb, most of the journey can be made in our vehicle.
We then transfer to nearby Akane, another Japanese inn with onsen hot spring baths. A yoga session is followed by a visit to the onsen and dinner.
Accommodation:
Japanese inn.
Meals:
Breakfast & dinner provided.
Total walking:
4km (2.5 miles).
Day 6 Akane – Tashibu – Fuki-ji
After breakfast, we transfer to Makiodo, a rather basic temple building that has become a treasure house of Buddhist relics saved from some of the temples, which, over the centuries, have fallen into ruin on Kunisaki. A gentle stroll through the forest, followed by a short ascent and descent, takes us through Tashibu-no-sho, a charming village with some of the most picturesque countryside found in Japan. Along the way we come across stone and wooden Buddhist statues perched in caves overlooking farmland scenery that seems to have changed little since Kunisaki's origins as a Buddhist centre some 1,300 years ago.
We walk through the area to Midozo, a once disused, traditional farmyard barn that has been refurbished as a community cafe. We enjoy a light lunch here of fresh local produce that will include locally foraged, seasonal wild vegetables. Time to rest in the pleasant vicinity before a gentle yoga session here.
Refreshed, we travel to the spectacular Kumano Magaibutsu, the largest Buddha relief carvings in Japan that date back over 900 years. To see the Magaibutsu involves a short, stiff climb but the effort is well rewarded. Tonight we return to Fuki-ji and the familiarity of our first inn of the Kunisaki Retreat, its onsen and congenial hosts. Another massage before our final dinner, a special culinary celebration of our time together in Kunisaki.
Accommodation:
Japanese inn.
Meals:
Breakfast, lunch, & dinner provided.
Total walking:
2.7km (1.7 miles).
Day 7 Fuki-ji
Early morning meditation at Fuki-ji temple is followed by breakfast. After breakfast at our hotel, we transfer to Usa station, where the tour ends.
Accommodation:
N/A.
Meals:
Breakfast provided.
Total walking:
N/A.
This itinerary is subject to change.
The itinerary for the Kunisaki Retreat is ground-only, beginning in Fukuoka and ending in Kunisaki.



The airport closest to the tour's start at Hakata Station is Fukuoka International Airport, with domestic flights departing frequently from Tokyo and Osaka's airports. While the group meets at Hakata Station in Fukuoka before transferring to the accommodation, direct access to the accommodation is achievable from Oita Airport. Please contact us for more details.
-----
FROM FUKUOKA INTERNATIONAL AIRPORT (FUK)
From Fukuoka International Airport, please either take the City Subway line, which costs about JPY260 and takes approximately 5 minutes. The journey by taxi costs about JPY1,500 per person and takes approximately 15 minutes.
-----



The pre-tour pack includes detailed instructions, including a map, for travel to the accommodation at the start of the tour.



Tour participants are advised not to book themselves out on an early morning flight at the end of the tour as the journey by taxi and train from Fukiji to the nearest international airport takes approximately 2 hours.