A snowshoe tour through the winter landscape of Tohoku in north Honshu.
Guided snowshoeing in Tohoku, a region famed for its beautiful and rugged landscapes, delicious rice, prodigious amounts of snow, culture, onsen thermal hot springs, and Matsuo Basho, whose most famous poetic journey was through the region.
January, February & March.
The Tohoku Hot Spring Snow Tour is a fully-guided tour suitable for reasonably fit people who can walk comfortably for three hours a day. We wear snowshoes to follow the tour route, which is mostly over snow-covered flat or gently inclined terrain. One steeper climb without snowshoes is also included. Please read more on Tour Levels here.
Accommodation is in Japanese inns, most of which have onsen thermal hot spring baths. The maximum group size for this tour is 12 persons. We have no minimum size. If we accept a booking we guarantee to run the tour.
This fully-guided tour leads us through the rugged and rural Tohoku region in the depths of snowy winter. A ruggedly beautiful and mysterious land, Tohoku is dominated by towering mountains, remote valleys, vast forests and rugged coasts. Squeezed in between are communities where the inhabitants have toiled heroically for generations to live in concert with their environment; never more so than when snows fall copiously and envelop the landscape. Deep in the mountains, winter has always been the greatest test of the locals' resilience, which is underpinned by their friendly and robust community. On the Tohoku Hot Spring Snow Tour we are warmly welcomed into their communities, much as the people here have sheltered each other and visitors for millennia, and gain insights into their lives; still based, in large part, on ages-old traditions.
The deep snows of winter pair delightfully with the warm and invigorating onsen hot springs that we make ample use of throughout this tour. Undoubtedly, Matsuo Basho, one of Japan's greatest literary figures, also luxuriated in the many onsen found throughout Tohoku on his itinerant perambulation here in the seventeenth century. Our journey coincides in part with his travels, related in his poetic narrative
Narrow Road to the Deep North
. In his footsteps, we visit a spectacularly and precipitously sited temple high above a valley on a steep cliff; and a venerable farmhouse where the lyricist's uncomfortable night is evocatively related in his
haiku
poetry.
Walk Japan's expert tour leader gathers with the tour group at 09:15am in Tokyo Station. From here, our journey begins at a rapid clip as we board the super-fast shinkansen bullet train for Yonezawa. From here on, however, the pace for the rest of our journey together drops significantly as we ride local trains and vehicles to charming farming hamlets, hot spring villages and towns. Here, with snowshoes on our feet, we venture out over countryside that glistens in the winter sun, or otherwise fades to an other-worldly monochrome under snow-laden clouds. We explore mostly flat or gentle inclines but also include: a long descent through the incredible
juhyo
snow monsters; and a steep climb without snowshoes up to one of Tohoku's greatest treasures, Yamadera Temple.
Our journey first takes us north from Tokyo to the centre of the Tohoku region; from here local trains and vehicles take us ever deeper into this rugged, beautiful land as we make our way through its interior before finally reaching Sakata, a historic and elegant old port town on the Sea of Japan coast. We stay in delightful inns, most of which boast onsen baths. After relaxing and reinvigorating ourselves in the mineral waters that gush up from deep within the earth, we stimulate our palates with evening meals that draw on the wide range of fresh produce from the seas, fields, rivers and mountains of Tohoku.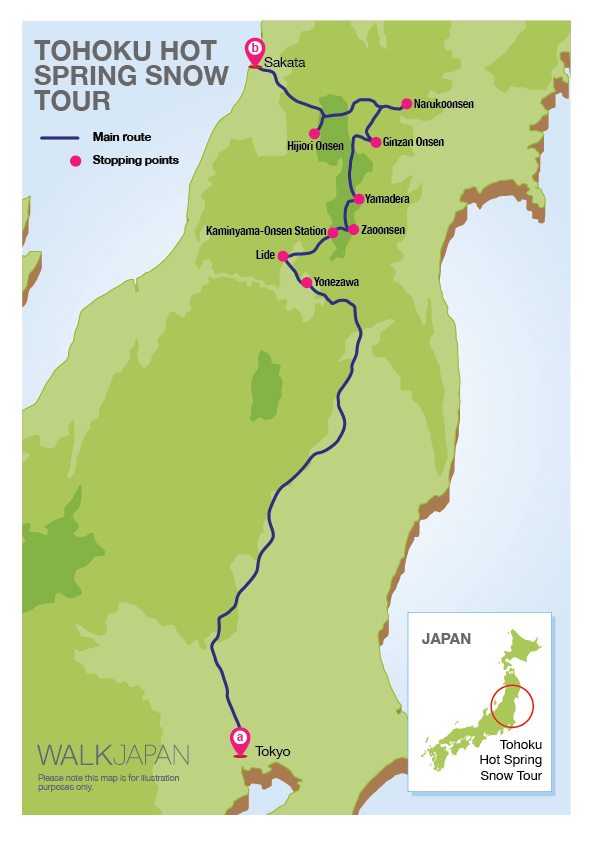 The itinerary for the Tohoku Hot Spring Snow Tour tour is ground-only, beginning in Tokyo and ending in Sakata. Prior to the tour, Walk Japan will provide detailed instructions for travelling to the meeting point in Tokyo from Tokyo's Narita (NRT) and Haneda (HND) Airports. At the end of the tour, travellers are advised not to book themselves out on an early morning flight as it can take up to five hours to travel from Sakata to airports in the Tokyo region.



Day 1 Tokyo – Iide – Nakatsugawa

Your Walk Japan tour leader meets the tour group at 9.15am in Tokyo Station, from where we travel north for approximately two hours by shinkansen bullet train to Yonezawa. Here we transfer to a local train for Iide. During our rail journey we enjoy a bento lunch box, a delightful complement to our journey through the Japanese countryside.



On arrival in Iide, we slip into our snowshoes and embark on our first walk together up a low hill. The gentle climb provides us with the opportunity not only to familiarise ourselves with snowshoeing techniques but also to savour the wonderful winter vista across Iide's wide valley as we ascend to the top. The view stretches to mountains far in the distance over one of the best rice-producing regions of Japan. The paddy fields lay unseen below a shroud of snow but farmhouses, lying in the lee of stands of cedar trees protected from intermittent northerly winds, dot the plains below us.



After descending, we continue our journey by vehicle from the plain into the surrounding mountains to Nakatsugawa, a secluded village carpeted in deep snow. Tonight we we find a tranquil lake close by the inn, where we savour the first of many delectable evening meals of the tour.



Accommodation: Japanese Inn.
Meals: Lunch & Dinner provided.
Total walking: 3km (1.9miles).
Total elevation gain: 110m (361ft)



Day 2 Nakatsugawa – Kaminoyama Onsen

After breakfast in our accommodation, we set off equipped with our snowshoes for an exploration of Nakatsugawa and its surroundings. We are joined by a local forester, who leads us into the surrounding maple forests. On the way he relates stories about local life, including how the villagers have developed a successful business collecting syrup from the maples and processing it for sale in Tokyo's fashionable stores.



A local family prepare our lunch, which comprises regional dishes using local produce, both cultivated and foraged. Our congenial hosts tell us more about life in the region before we transfer by vehicle to Kaminoyama Onsen, a hot spring town at the base of Mt. Zao.



We stay here for the next two nights in a Japanese inn with onsen hot spring baths. After exploring the atmospheric old samurai district found in the town, we make the most of the onsen before settling down together for dinner in our accommodation.




Accommodation: Japanese Inn.
Meals: Breakfast, lunch & dinner provided.
Total walking: 3km (1.9 miles).
Total elevation gain: 52m (170ft).



Day 3 Kaminoyama Onsen – Zao – Kaminoyama Onsen

We transfer to the foothills of Mt. Zao-san, which dominates the skyline of Kaminoyama Onsen. Rather than one mountain, however, Mt. Zao-san is really composed of a cluster of volcanoes.



Today, a local mountain guide joins us as we board a cable car which whisks us to the top of one of these volcanoes, Mt. Jizo-san. We are joined in the cable car by skiers and snowboarders, who throng here for the powder snow. As we near the top we enjoy spectacular aerial views of the terrain that we soon start descending through on our snowshoes. Below us spread out over the mountainside, littering the landscape like a regimented, if somewhat ragged, troop of monstrous snowmen, are Zao's remarkable juhyo snow monsters. Juhyo are created by the accumulation of ice and snow on trees forming these towering snowy giants.



Alighting from the cable car we first pay our respects to a statue of Jizo, the patron deity of the mountain and protector of travellers, before quickly slipping away from the crowds to the virgin snow found amongst the phantasmagorical juhyo. We descend through this silent, stock-still army of awe-inspiring giants before reaching another cable car for our return journey to the foothills of Mt. Jizo-san and a local restaurant for lunch.



We return to Kaminoyama Onsen where we spend the afternoon exploring the town. On a clear day, the setting sun makes a spectacle of Mt. Zao-san by dyeing it with vivid shades of pinks, oranges and reds before everything finally disappears into the dark of night. After refreshing ourselves in our accommodation's onsen baths, we venture out into town for dinner at an izakaya restaurant, always a popular and lively destination. Here the plethora of dishes caters to all palates.



Accommodation: Japanese inn.
Meals: Breakfast, lunch & dinner provided.
Total walking: 5.8km (3.6 miles).
Total elevation gain:308m (1011ft).



Day 4 Kaminoyama Onsen – Yamadera – Akakura Onsen

After an early breakfast, we transfer by vehicle to Risshaku-ji Temple, commonly known as Yamadera. The temple is spectacularly sited high on a sheer cliff and we climb up to it using ice cleats. A winding, stepped path leads us through dense cedar forest to the temple buildings. Clinging seemingly precariously to the rock face, they present a picturesque scene and together with the spectacular views over the valley below make the effort more than worthwhile.



Matsuo Basho, Japan's greatest poet, visited Yamadera in 1689 on the famous journey detailed in his itinerant narrative Narrow Road to the Deep North:



Ah, this silence
Sinking into the rocks
Voice of cicada.



The silence still pervades but at this time of year the cicadas, whose shrill calls punctuate summer days, are nowhere to be heard.



A further 60-minute drive brings us to Ginzan Onsen, a charming village set in a deep valley and known far and wide for its hot springs. Ginzan Onsen prospered in the early Edo Period (1603–1868) after silver was found nearby. A mine was established and the local population boomed as people flooded in from across Japan. Although the ginzan, the mine, dug to extract the precious metal was short-lived, closing in 1689, its one-time existence lives on in the name of the village. During the following century, the area began to flourish again as its onsen found great popularity, which has continued to this day.



We stop to enjoy a delicacy of the region, soba buckwheat noodles, for lunch before setting out in the company of a local guide to visit the remains of the old silver mine. In the spirit of ages past, this afternoon we use traditional kanjiki snowshoes, made of wood and rope, to traverse the snow. At the mine we are confronted with a magical scene of hyojun ice spikes, a rare phenomenon whereby ice grows upwards.



A quick vehicle transfer brings us to Akakura Onsen, where we stay for the next two nights. Our accommodation tonight is another Japanese inn with onsen hot spring baths. Here, we also enjoy a sumptuous evening meal.



Accommodation: Japanese inn
Meals: Breakfast, lunch & dinner provided.
Total walking: 2.3km (1.4 miles).
Total elevation gain: 222m (728ft).



Day 5 Akakura Onsen – Natagiri Pass – Akakura Onsen

Today, our travels follow in Basho's footsteps. After enjoying a typical Japanese breakfast in our accommodation, a short journey by vehicle brings us to the start of our snowshoe walk up and over the Natagiri Pass, made famous by Basho in his poetic travelogue Narrow Road to the Deep North. Basho related his fear of encountering bandits on his way over the Pass but we have no such worries as we follow the gently climbing path through majestic cedar forests. At the Pass, the forest clears revealing views to sacred Mt. Gassan-san. From here, we descend through elegant beech tree forests.



After lunch, we transfer to Naruko Onsen via Hojin-no-Ie, a lovely thatched building made famous by association with Basho, who spent the night here. Although the building is closed in winter, this is an evocative spot to pause, pay homage to the great writer and perhaps conjure up a haiku poem.



Here, we also visit a museum dedicated to kokeshi wooden dolls, a great tradition in the Tohoku region. Kokeshi became popular at the end of the Edo Period as souvenirs. These were given to family and friends who had been unable to make the journey and to serve as totems of onsens' therapeutic benefits.



A vehicle transfer returns us to Akakura Onsen for our second night.



Accommodation: Japanese inn.
Meals: Breakfast, lunch & dinner provided.
Total walking: 4.5km (2.8 miles).
Total elevation gain: 186m (610ft).




Day 6 Akakura Onsen – Hijiori Onsen

This morning we transfer across country by local train and vehicle to Hijiori Onsen, a little-known gem of a hot spring. This onsen, which is nestled scenically into the caldera of a long extinct volcano, reputably records each year some of the heaviest snowfall experienced anywhere in Japan.



We enjoy a simple but fortifying lunch of soba before we set out snowshoeing for the afternoon. On our exploration we are accompanied by a local who describes the life and culture here as we make our way over rice paddies, which are hidden deep beneath the snow.



Similarly to Naruko Onsen, Hijiori Onsen is also known for its therapeutic onsen waters. Origami cranes, left by guests in thanks for the relief of their ailments, decorate the inns here. Hijiori Onsen is also one of the starting points to climb Mt. Gassan, which we have previously seen from the Natagiri Pass. One of the three Dewa Sanzan mountains, Gassan is sacred to adherents of Shugendo, an ancient, esoteric religion combining elements from Shinto, Taoism and Buddhism.



Tonight, we stay in another lovely Japanese inn, where we enjoy an exquisitely presented and delicious multi-course kaiseki banquet.



Accommodation: Japanese inn.
Meals: Breakfast, lunch & dinner provided.
Total walking: 2.85km (1.8 miles).
Total elevation gain: 105m (344ft).



Day 7 Hijiori Onsen – Sakata

We enjoy a leisurely start today before setting out on our journey by local train across the Shonai Plateau to Sakata on the rugged Sea of Japan coast. In the Edo period, Sakata was one of the busiest ports in the country; a vital entrepôt for the Kitamae-bune trading ships that plied between Osaka and Hokkaido via the Seto Inland Sea and the Sea of Japan. On arrival, we enjoy lunch, which is not included in the tour, in one of the many and varied restaurants found in town.



In the afternoon, we stroll around Sakata exploring historical sites related to the Kitamae-bune trade such as the Sankyo rice storehouse, which remains in its original use today. We also visit Honma-ke, a splendid mansion complex built in 1768 by the most prosperous and influential merchant family of their period. Honma-ke combines two distinct styles; the luxurious front half was built of high-quality cypress wood for the use of top-ranking samurai, while the rear section is constructed in a humbler style typical of a merchant's home of the period.



Tonight we stay at a family-run Japanese inn in town, where we enjoy our final dinner of the tour.



Accommodation: Japanese inn.
Meals: Breakfast & dinner provided.
Total walking: 2km (1.2 miles).
Total elevation gain: 75m (246ft)



Day 8 Sakata

The tour finishes after breakfast in our accommodation. Onward journeys to Tokyo and other regions of Japan can be made by train or airplane and your tour leader is on hand to assist in arranging your departure.



Train journeys to the capital take approximately four hours, while four flights per day depart from nearby Shonai Airport for Tokyo's Haneda Airport.



Accommodation: N/A
Meals: Breakfast provided.
Total walking: N/A.
Total elevation gain: N/A.




This itinerary is subject to change.




The itinerary for the Tohoku Hot Spring Snow Tour is ground-only, beginning in Tokyo and ending in Sakata.



The airports closest to the tour's start at Tokyo Station are Tokyo's Haneda and Narita International Airports, Nagoya's Central Japan Airport, and Osaka's Kansai International Airport.
-----
FROM TOKYO'S NARITA AIRPORT (NRT)
From Tokyo's Narita International Airport, Narita Express trains depart to Tokyo Station. The journey costs about JPY2,940 per person and takes approximately 50 minutes.
-----
FROM NAGOYA'S CENTRAL JAPAN INTERNATIONAL AIRPORT (NGO)
From Nagoya's Central Japan International Airport, Meitetsu Line trains depart to Nagoya, where shinkansen bullet trains then depart for Tokyo Station. The journey costs about JPY12,100 per person and takes approximately 2 hours 20 minutes.
-----
FROM OSAKA'S KANSAI INTERNATIONAL AIRPORT (KIX)
From Osaka's Kansai International Airport, Haruka Express trains depart to Kyoto Station, where shinkansen bullet trains connect to Tokyo. The journey costs about JPY15,970 per person and takes approximately 3 hours 30 minutes.



The pre-tour pack includes detailed instructions, including a map, for travel to the accommodation at the start of the tour.



Tour participants are advised not to book themselves out on an early morning flight at the end of the tour, as the journey from Sakata to the nearest international airport is approximately 5 hours.