A leisurely walking tour along Japan's greatest thoroughfare in central Japan alongside the Pacific Ocean coast.
An excellent complementary tour to Walk Japan's Nakasendo Way, the pioneering walking tour of Japan, and a fascinating guided introduction to historic and modern Japan while exploring this iconic ancient highway from Tokyo to Kyoto. Easy to moderate walking through urban and rural countryside; traditional and modern inns, multi-course traditional cuisine.
Year-round.
The Tokaido Trail is a fully-guided tour suitable for anyone who can walk for more than four hours in comfort. In general, the walking is on quiet, level paved roads and also on forest trails that climb up and over hill passes. Please read more on Tour Levels here.
An 8-day, 7-night tour starting in Tokyo and finishing in Kyoto. Tour accommodation is in Japanese inns and hotels. The maximum group size for this tour is 10 persons. We have no minimum size. If we accept a booking we guarantee to run the tour.
Walk Japan's exploration of the Tokaido, the greatest of Japan's ancient highways, is a tour through the heartland of Japan between three of its greatest cities; Tokyo, Nagoya and Kyoto. It is also a journey through the very core of Japan's history, culture and society to the present day. The old road played such a pivotal role in the development of their nation that every Japanese person knows of it. The name Tokaido, literally the Eastern Sea Road, resonates so strongly with them that the name has been used for the modern highways and trains that superseded it, including the world's first bullet train. Almost all Japanese will ride the super-fast Tokaido Shinkansen bullet train or drive speedily along the Tokaido Kosoku toll road at some time in their lives. However, few now make their way at a more sedate pace along the Tokaido, which still retains relics and fascinating insights into travel and daily life in old Japan.
The Tokaido Shinkansen bullet train thunders between Tokyo and Kyoto at 285km (177 miles) per hour in a little over two hours, hardly affording time to contemplate its much older namesake. Our significantly more leisurely journey over eight days connects the best remaining sections of the Tokaido, taking us through towns and along paths seemingly forgotten since the days when it was the major transport artery through Japan. We explore on foot and also on Japan's excellent public transport system following travellers of old, including the great emperors and powerful shoguns who shaped Japan, samurai warriors marching to battle, and the everyday folk who were given permission to leave their villages perhaps only once in their lives. We are also following journeys made by overseas visitors including ornate processions by Korea delegations; the samurai Englishman William Adams; Dutch traders Engelbert Kaempfer and Philipp Franz von Seibold; and nineteenth-century British explorers Basil Hall Chamberlain and Isabella Bird.
Woodblock artist Utagawa Hiroshige's (1797–1858) most famous work,
The Fifty-Three Stages of the Tokaido
, is our historic visual companion. His prints of the old road contributed to popularising the Tokaido in the Edo Period (1603–1868) and cemented its iconic status amongst the Japanese to this day. Sometimes it is still possible to match today's scenery with Hiroshige's depictions, which illustrate daily life upon and aside the road.
We meet in Tokyo and travel together through Hakone, Kambara, Okabe, Kanaya, Okazaki and Seki before finishing our journey at Sanjo-Ohashi Bridge in Kyoto. Today, some of these places are hard to find on the map but they were once bustling with travellers and the locals who catered to the passing trade.
The Tokaido Trail tour follows the most interesting and enjoyable parts of the old highway at an easy walking pace at distances of between 10–14km (6.2–8.7 miles) each day. Our main baggage is sent on every morning so that we need only take what is needed for each day's walking in small backpacks. Hill passes are a feature of this tour, but they are not high, with gentle to moderate inclines that can be completed at a leisurely pace. Walk Japan provides tour participants with easily followed, detailed instructions on how to join the tour.
More information about the history of the Japan's old highways focused on Japan's second greatest highway, the Nakasendo Way, is available at our complementary website
Nakasendo Way: A Journey to the Heart of Japan
.
The itinerary for the Tokaido Trail tour is ground-only, beginning in Tokyo and ending in Kyoto. Prior to the tour, Walk Japan will provide detailed instructions for travelling to the meeting point in Tokyo from Osaka's Kansai Airport (KIX) and Tokyo's Narita (NRT) and Haneda (HND) Airports. At the end of the tour, travellers are advised not to book themselves out on an early morning flight as it can take up to two hours to travel from our Kyoto accommodation to Kansai Airport and more than four hours to Tokyo's Narita and Haneda Airports.



Please note that on Day 2 the main baggage will be shipped in advance overnight. On this day, you will need to carry all items you require overnight; your daypack should be sufficiently large to accommodate these items.




Day 1 Tokyo

Your Walk Japan tour leader welcomes everyone in the lobby of our hotel, followed by the tour briefing, which is continued over dinner in a restaurant in nearby Nihonbashi. On the doorstep of Edo Castle, where the all-powerful shogun resided, Nihonbashi was at Japan's political and economic epicentre in the Edo Period (1603–1868) and all the nation's principal roads, including the Tokaido, led here. Nihonbashi first grew as a neighbourhood of craftsmen entrusted with the building of Edo, subsequently developing into a merchant quarter that supplied the needs of the shoguns' court and townspeople alike.



We enjoy a stroll around this interesting neighbourhood and learn about some of the personalities associated with the area, including William Adams and Sadayakko. Adams, an Englishman who became a confidant to Tokugawa Ieyasu, the greatest shogun, was one of only two Westerners ever to become a samurai. Sadayakko was a geisha born in Nihonbashi, who became celebrated throughout the West at the beginning of the twentieth Century, performing for the presidents of the USA and France, the Prince of Wales, and the Tsar of Russia, and appearing on the front of Harpers Bazaar magazine in 1900.



Nihonbashi remains a bustling district that is lined with both traditional and fashionable shops, including Mitsukoshi's flagship department store. We round off the evening by walking the first kilometre from here along the Tokaido; a symbolic start to our journey together along this historic road to Kyoto.



Accommodation: Hotel.
Meals: Dinner provided.
Total walking: 2km (1.2 miles).
Total elevation gain: N/A.




Day 2 Tokyo – Hakone – Mishima

Before departing early morning on the aptly named Tokaido Shinkansen bullet train, we send our luggage ahead by overnight courier to our accommodation on Day 3. Today, we are bound for Hakone, where we walk over one of the Tokaido's most famed passes. Here, part of the route still retains the ishidatami paving stones from the Edo Period. Near the top of our climb, we rest at an atmospheric thatched teahouse redolent of an earlier age before cresting the pass and descending to Lake Ashi-no-ko through an avenue of towering, centuries-old namiki cedar trees. At the lake shore, weather permitting, we enjoy an iconic view across the waters to Mt. Fuji.



In the Edo Period, Hakone was also known for its sekisho barrier station, a checkpoint that controlled passage along the old highway; a place to be feared by travellers lacking the appropriate credentials. We visit the reconstructed sekisho and associated excellent museum before journeying on by local bus to Mishima.



After checking into our hotel accommodation, we venture out into town for dinner at a local izakaya restaurant, where the large and varied menu caters to everyone's tastes.



Accommodation: Hotel.
Meals: Breakfast & dinner provided.
Total walking: 8km (5 miles).
Total elevation gain: 610m (2000ft).




Day 3 Mishima – Kambara – Yui – Okitsu

We transfer by local train on the Tokaido Main Line, which largely follows the route of the old highway along the Pacific Ocean coast to Kambara post town. From here we walk to the excellent Tokaido Hiroshige Art Museum to view original woodblock prints. We also make time to sample sakura ebi, a shrimp delicacy, before continuing on through the post town of Yui and climbing the Satta Pass through citrus groves. One of Hiroshige's most famous illustrations of the Tokaido, incorporating Mt. Fuji, is set at the top of the pass and today we can still enjoy the same view.



We make our way down to Okitsu, a post town made famous by Oliver Statler in his book A Japanese Inn. Our accommodation tonight is Oka-ya, a ryokan inn that has been welcoming travellers on the Tokaido for over 200 years through seven generations of the same family. We are reunited with our main luggage sent from Tokyo and dinner is a traditional multi-course feast.



Accommodation: Japanese Inn.
Meals: Breakfast, lunch & dinner provided.
Total walking: 12km (7.4 miles).
Total elevation gain: 227m (744ft).




Day 4 Okitsu - Mariko - Okabe - Fujieda

After breakfast at Oka-ya, we depart for the outskirts of Shizuoka City and the mighty Abe River. The boats that once ferried travellers across have long been superseded by a bridge spanning the waters but Sekibe-ya, famous since the Edo Period for its abekawa mocha rice cakes, remains in business. Travellers waiting for a ferry boat would rest here and snack on rice cakes washed down with green tea. In a similar fashion to our compatriots of old we stop at Sekibe-ya for morning refreshment before continuing along the old highway to Mariko post town. Here we lunch on tororojiru grated yam soup, another famed delicacy, at Choji-ya, a restaurant made famous by Hiroshige in his print of the area. Now run by the fourteenth generation of the same family, Choji-ya has been serving tororojiru since 1596.



Following lunch, we board a local bus that brings us to the hamlet of Utsunoya and the start of our walk through woods around and over the Utsunoya Pass. If time permits, we also visit Kashiba-ya, an old inn maintained as a period museum that provides us with insights into life in the Edo era, before transferring to Fujieda and our modern accommodation for the night.



Accommodation: Hotel.
Meals: Breakfast, lunch & dinner provided.
Total walking: 12 km (7.4 miles).
Total elevation gain: 319m (1050ft).





Day 5 Fujieda – Shimada – Nissaka – Kurami Onsen

Transfer to nearby Shimada before embarking on a walk across the Oi River, one of a number of very wide rivers that the Tokaido traverses. During the Edo Period, the shogun used these rivers as natural lines of defence, prohibiting the construction of bridges and the use of boats. Instead, travellers were physically carried across on the backs of porters, who waded from shore to shore.



We visit the original crossing site before strolling across the modern bridge and rejoining the old highway. Our walk today is as far as the post town of Nissaka, and takes us through the lovingly maintained tea plantations of the Makinohara Plateau and over a section comprised of original ishidatami. On the way, we pass through the hamlet of Kikugawa, where locals take pride in beautifully preserving their section of the old road. We finish our walk in Nissaka and transfer to nearby Kurami Onsen and our accommodation, an atmospheric inn, for the night. The current building dates from 1894, and is notable for the quality of timber and craftsmanship utilised in its construction. Dinner is a sumptuous repast of multiple dishes.



Accommodation: Japanese Inn.
Meals: Breakfast & dinner provided.
Total walking: 11km (6.8 miles).
Total elevation gain: 309m (1014ft).




Day 6 Kurami Onsen – Honzaka Pass – Goyu – Okazaki

Departing our accommodation, we board a dedicated vehicle, which we retain throughout the day. Our first and main walk today takes us along a section of the Honzaka-kaido, a 60km (37.2 mile) diversion route off the main Tokaido. This road was better known as the Hime-kaido, or Princess Way, as it was used by women avoiding the barrier station at Arai, which was infamous for its strict inspections of female travellers. It also allowed the circumvention of the dangerous crossing between Maisaka and Arai, post towns sited on either side of the inlet between Hamana-ko and the Pacific Ocean.



Our walk takes us up and over the Honzaka Pass through citrus orchards and natural forests before descending among cedar forests and some vineyards to Suse, once a bustling post town but now a charming, if sleepy, village. From here we reboard our vehicle to Goyu post town, known for its long stretch of namiki lining the Tokaido. We walk a couple of kilometres from Goyu onto Akasaka, the neighbouring post town. Ohayashi-ya, founded in 1649, was one of 83 inns that once serviced travellers here. However, it proved to be the last, ceased trading in 2015 and is now being refurbished in the style of Goyu's heyday as the rowdy and raucous place of pleasure depicted in Hiroshige's print.



Our vehicle takes us onto Okazaki and our hotel accommodation for the night overlooking Okazaki Castle. The castle is featured in Hiroshige's woodblock print, and was the birthplace of Tokugawa Ieyasu, a pivotal figure in Japanese history whose rise to shogun instigated the Edo Period and, amongst many other things, formalised the road system with the Tokaido as its backbone.



Before checking in, however, we visit the famous Haccho Miso manufacturing area of the town, where miso has been produced since 1337. Still made here in the traditional way, Haccho Miso is an essential and tasty ingredient of Japanese cuisine and, unsurprisingly, it features in our meal together this evening.



Accommodation: Hotel.
Meals: Breakfast & dinner provided.
Total walking: 8km (5 miles).
Total elevation gain: 268m (880ft).




Day 7 Okazaki – Kameyama – Seki – Kyoto

Travelling on to Kameyama, we walk to Seki on the penultimate leg of our journey together along the Tokaido. With over 200 buildings remaining from the late Edo and Meiji Periods, Seki is the best-preserved post town on the Tokaido. We explore the town, which is framed by Mt. Fudesute-yama, also the subject of Hiroshige's woodblock print. Our final journey brings us to Kyoto.



We visit the Sanjo Ohashi, the bridge in central Kyoto that is the terminus of the Tokaido and the end of our journey together. Here we pay homage to two statues of the irreverent, fictional characters from Shank's Mare, who had so much fun travelling down the road over 200 years ago. A suitably celebratory dinner follows to mark the end of our travels along the greatest road in Japan's history.



Accommodation: Hotel.
Meals: Breakfast, lunch & dinner provided.
Total walking: 8 km (5 miles).
Total elevation gain: 47m (155ft).




Day 8 Kyoto

The tour finishes after breakfast, but your tour leader will be available to advise and assist with your onward travel arrangements.



Meals: Breakfast provided.
Total walking: N/A
Total elevation gain: N/A.



This itinerary is subject to change.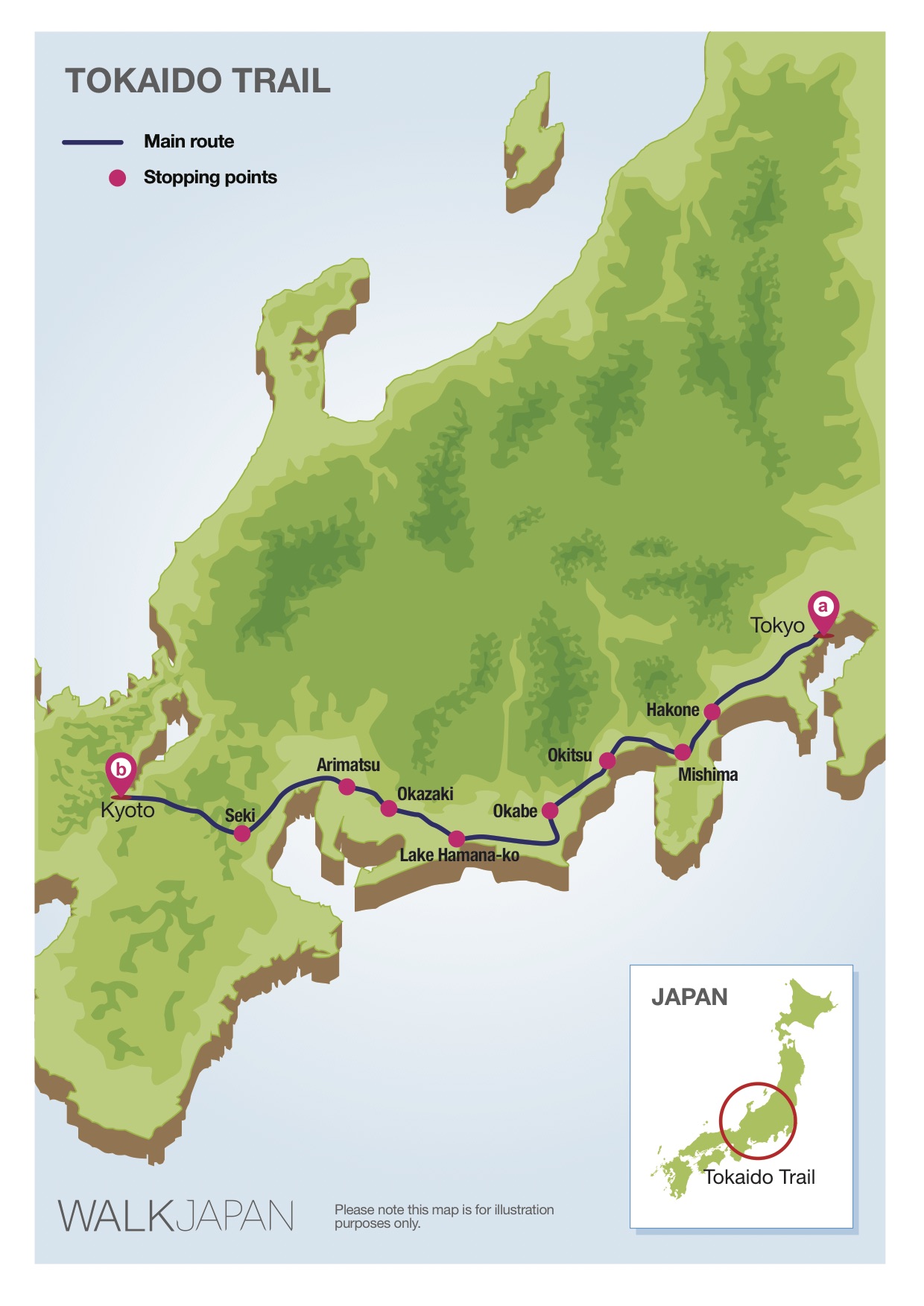 The itinerary for the Tokaido Trail is ground-only, beginning in Tokyo and ending in Kyoto.



The airports closest to the tour's start at Tokyo Station are Tokyo's Haneda or Narita International Airports. Transfer is also easily made from both Nagoya's Central Japan Airport, and Osaka's Kansai International Airport.
-----
FROM TOKYO'S NARITA AIRPORT (NRT)
From Tokyo's Narita International Airport, Narita Express trains depart to Tokyo Station. The journey costs about JPY2,940 per person and takes approximately 50 minutes.
-----
FROM NAGOYA'S CENTRAL JAPAN INTERNATIONAL AIRPORT (NGO)
From Nagoya's Central Japan International Airport, Meitetsu Line trains depart to Nagoya, where shinkansen bullet trains then depart for Tokyo Station. The journey costs about JPY12,100 per person and takes approximately 2 hours 20 minutes.
-----
FROM OSAKA'S KANSAI INTERNATIONAL AIRPORT (KIX)
From Osaka's Kansai International Airport, Haruka Express trains depart to Kyoto Station, where shinkansen bullet trains connect to Tokyo. The journey costs about JPY15,970 per person and takes approximately 3 hours 30 minutes.



The pre-tour pack includes detailed instructions, including a map, for travel to the accommodation at the start of the tour.



Tour participants are advised not to book themselves out on an early morning flight at the end of the tour, as the journey from Kyoto to the nearest international airport is approximately 2 hours.