A land and waterborne summer adventure to Japan's most southerly reaches.>
Guided tour of moderate walking combined with kayaking, sea paddling and snorkelling. Exploration of sub-tropical forest, mangroves, sandy beaches, coral reefs and sandy islets. Distinctly different Okinawan culture and cuisine.
June.
The Yaeyama: Okinawa Voyage tour is a fully-guided tour suitable for anyone who can exercise for more than three to four hours in comfort. The principal activities of this tour are kayaking along calm rivers through mangroves and on the open sea, snorkelling above coral reefs and walking through sub-tropical jungle; making this tour most suitable for anyone who is comfortable in and around water. Please note that the routes of some days' activities, particularly sea kayaking, are subject to change due to weather and sea conditions. Please read more on Tour Levels here.
A 7-day, 6-night tour starting at the tour accommodation on Day 1 of the itinerary and finishing at Ishigaki Airport. Accommodation is in a luxury hotel and a delightful family-run guest house. The maximum group size for this tour is 10 persons. We have no minimum size. If we accept a booking we guarantee to run the tour.
Walk Japan's Yaeyama: Okinawa Voyage takes us to Yaeyama, a group of islands at the farther southern reaches of both the Okinawa chain of islands and Japan itself. With their laidback atmosphere and emerald seas, Okinawa's main islands have been a destination for Japanese tourists for many years but Yaeyama's Iriomote, the main focus of this tour, is little developed and generally unknown among foreign visitors to Japan. Far closer to Taiwan than to mainland Japan, Yaeyama has a sub-tropical climate and distinct flora and fauna. These, together with very different historical and cultural roots, give these islands a uniqueness and distinctiveness all their own within the Japanese archipelago and we see this everywhere we go on our tour. Unlike other Walk Japan tours, the majority of the tour takes us near, on and into the water. We do walk but our principal and sometimes only ways of accessing the beautiful environments here are by kayak and snorkelling. Nevertheless, we enjoy the same cultural immersion found in all Walk Japan's tours, albeit in the very distinct context of Okinawa and, especially, Yaeyama.
Ishigaki and Iriomote are the two largest of the Yaeyama group of islands and they are the focus of this tour. With its easy access to Japan's international airports, Ishigaki makes an ideal point to begin and end our exploration of Yaeyama. Although the economic centre and transport hub of the region, Ishigaki's principal attraction for us is the island's wildlife, above all the spectacular coral reefs that surround the island. Set in beautiful cobalt seas, the reef is composed of more than 120 types of coral providing a home to over 300 species of tropical fish, many spectacularly coloured. While exploring the reef by snorkelling, we learn not only about its beautiful environment from the locals but also how they have come together as a community to protect and revive it.
A one-hour ferry ride away lies the spectacular island of Iriomote. Although slightly larger in area than Ishigaki, Iriomote is largely untouched by the modern world and, as a consequence, has a population less than one-tenth that of its neighbour. Its attraction for us is its environment, an ecological jewel of dense sub-tropical forests and mangroves, crystal-clear rivers, remote bays, islets and azure seas. Forests and mangroves together cover some 90 percent of the island and provide a home to one of the world's rarest felines, the Iriomote Cat. First discovered in 1965, it is estimated that there are only 100 left in the wild and this is listed as a critically endangered species. The chance that we see one of these cats is highly remote.
The Yaeyama: Okinawa Voyage tour takes us on a deep exploration of this magnificent natural environment and its surrounding seas. It also introduces us to the distinct culture and history of Yaeyama and also Okinawa as a whole. Okinawa is especially known for its unique music, Okinawa Minyo, which is heard wherever we venture. In particular, the sound of the sanshin, the precursor of the well-known Japanese shamisen, adds a special, exotic feel to our whole experience. Okinawans are also famed for their longevity by the Japanese, themselves some of the longest-lived people in the world. The locals credit this to their laidback lifestyle and healthy diet, which incorporates many varied, locally-grown exotic fruit and vegetables. The cuisine is quite different to the traditional Japanese diet and incorporates local delicacies of tropical fish, bitter melon and turmeric tea, often in a style reminiscent of Chinese cooking. In the summer months, when we visit the islands, tropical fruits such as pineapple, passion fruit, mango and dragon fruit are a daily treat.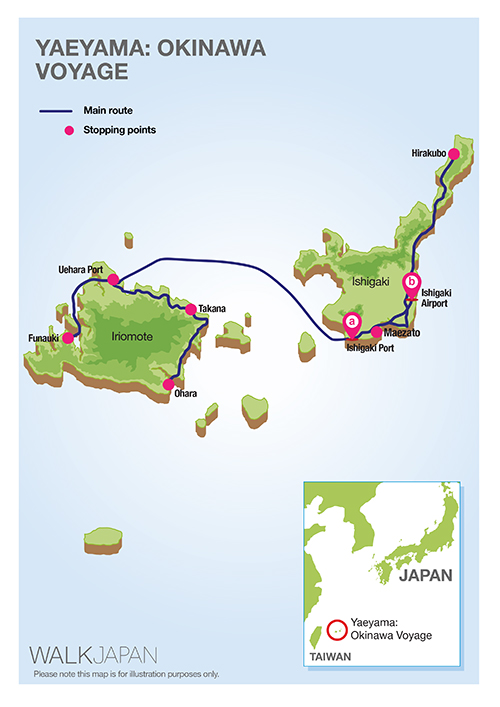 This itinerary for the Yaeyama: Okinawa Voyage tour is ground-only, beginning and finishing at Ishigaki Airport. Domestic flights arrive at Ishigaki Airport from Tokyo's Haneda, Nagoya's Chubu, Osaka's Kansai, Fukuoka and Naha Airports. Prior to the tour, Walk Japan will provide detailed instructions for travelling to Ishigaki and the meeting point at the first night's accommodation.



Okinawa is prone to typhoons. However, the Yaeyama: Okinawa Voyage tour is scheduled for June when the weather, although hot, is comfortable and typically before the typhoon season. Also, each day's itinerary while we are on Iriomote can readily be changed around to make the best of day-to-day weather patterns.



Day 1 Ishigaki – Maezato

The tour group meets on Ishigaki at tonight's accommodation, a luxury hotel which is a 20-minute journey by taxi from the airport and delightfully situated beside the emerald-blue seas that surround the island.



Your Walk Japan your leader provides the tour briefing in our accommodation over a dinner of Ishigaki and Okinawan dishes.



Accommodation: Hotel.
Meals: Dinner provided.
Total walking: N/A.
Total rowing distance: N/A.



Day 2 Maezato – Ibaruma – Maezato

After breakfast, we set off for an exploration of Ishigaki's remoter, less populated northern area in the friendly company of a local guide. Along the way, we pass by fields of sugar cane, the major crop of the island, and traditional Okinawan-style homes. The latter are a distinctive sight with their traditional surrounding walls built of coral and earth-fired tiled roofs, atop which sit Shisa lion-dogs, talismans that ward off evil.



We board kayaks to explore a river system that threads its way through mangroves. Our journey begins where the river empties into the ocean and from here we gently paddle upstream, following one ever-narrowing branch after another. As we progress, the tree canopy closes in overhead and the slow-flowing streams become increasingly shallow. Eventually, unable to progress any further in our kayaks, we disembark to continue our exploration on foot. Fiddler crabs and mudskippers scramble out of our way, hiding themselves under the arching roots that anchor the mangroves to the swamp. After returning to the river mouth, a short trek up a small, fast-flowing river takes us deep into the jungle and to a waterfall, under which we refresh ourselves in its invigorating flow.



After lunch, we board a motorboat for a snorkelling adventure in the Ibaruma-wan, a beautiful tropical bay. The bay is home to coral reefs supporting over 300 species of multi-coloured tropical fish, including clownfish.



Our evening concludes with a night in a traditional restaurant for a Okinawan culinary feast of local dishes, quite different but no less delicious than those found throughout the rest of Japan. Musicians and dancers performing the distinctive and lively music of the islands add to the enjoyment and exotic feel of the night.



Accommodation: Hotel.
Meals: Breakfast, lunch, & dinner provided.
Total walking: 1km (0.6miles).
Total rowing distance: 7km (4.3miles).




Day 3 Ishigaki – Iriomote

Breakfast completed, we ride an early morning ferry to Iriomote from Ishigaki. From the ferry piers of the terminal building, bustling with school children, locals on errands, business people and tourists, small ferries continually ply routes to all Yaeyama's main eight islands. Within an hour of departure in a fast ferry, we arrive at Iriomote, where we stay for the next four nights. After meeting our local guide and sending our main luggage ahead to the evening's accommodation, we start to explore the island. Iriomote is one of the last wildernesses of Japan. On the island's coast, tidal areas continually infused with fresh water from the jungles of the hinterland provide an ideal habitat for the extensive mangrove forests found here. A rich environment, of the seven mangrove species native to Japan all are found on Iriomote.



Our exploration begins by heading to the west side of Iriomote. We travel by vehicle as far as we can until the road peters out. From here on, the only way forward is by sea, in our case by kayak. The route we take through this remote area of islands and sandy bays depends upon sea conditions but will include wonderful views in a place that few ever visit. We may pass by an island that was once home to a coal mine, now long since deserted after the seams were worked out. The jungle has reclaimed the island for itself; little remains to be seen of its industrial past and it has regained its wild, natural beauty. A neighbouring island is home to a recluse, an elderly gentleman who has been living alone here since 1995. We continue on our way, viewing his lovely island from afar, before kayaking to a secluded beach where we land for lunch. Depending on the weather and seas, we further explore the area in our kayaks – perhaps to Funauki, a village that can only be reached by sea – or by snorkelling off the beach, before making our way back to our vehicle and our accommodation, a guesthouse with a large garden of hibiscus, bougainvillea and other tropical flowers.



Nearby, a beautiful sandy beach is a hidden treat of the island. Long considered a sacred site for the locals, it is also a great place to view the sunset before dinner in our accommodation.



Accommodation: Guest house.
Meals: Breakfast, lunch, & dinner provided.
Total walking: 5km (3.1miles).
Total rowing distance: 3km (1.9miles).




Day 4 Iriomote

After a couple of days largely waterborne, today we change mode from sea to land, and head into Iriomote's pristine sub-tropical jungle for a trek to Yutsun-no-taki waterfall. After breakfast, our local guides will pick us up and take us past some of the island's tallest mountains to a small opening in the jungle's underbrush.



From there, under dappled sunlight filtering through the canopy, we ascend 300 metres to the waterfall along a trail that follows a cascading river. As we walk, we encounter many varieties of Iriomote's fauna, including the beautiful blue-tailed Yaeyama seven-lined skink and myriad colourful butterflies. Along the way, we stop for a break at one of the rivers and take a dip in a pot hole, a circular depression formed in the rocky river bed by the grinding action of stones whirled round by the fast-flowing water. Feeling refreshed, we continue on through the jungle, hearing the calls of numerous but mostly unseen birds.



We enjoy lunch at Yutsun-no-taki, a time to relax and cool off in the mist blowing off the falls and take in the breathtaking scenery across Iriomote and the surrounding East China Sea. After returning along the same trail, we travel to the far side of the island for a relaxing time exploring Ohara, Iriomote's main settlement. Dinner is at a family-run restaurant in a traditional house specialising in local dishes. As we head back to our accommodation, we are afforded our best, albeit still remote, chance of seeing the elusive Iriomote Mountain Cat, one of the rarest cats in the world and local mascot of the island.



Accommodation: Guest house.
Meals: Breakfast, lunch, & dinner provided.
Total walking: 7km (4.3miles).



Day 5 Iriomote

Kayaks are the only way to access the mangroves and jungle here. Today, we gently wend our way along quiet rivers surrounded on all sides by verdant mangrove forests. Ahead of us we spy a towering waterfall. After mooring our boats at a trailhead, we take a path that leads us through the jungle to Pinaisala-no-taki, waterfalls that are the highest in the Okinawa island chain. We stop here to enjoy the atmosphere aside the waterfalls' plunge pool and for a picnic lunch, which is conjured up by our local guide. A dip in the cool waters is a great refresher before we set off again along the jungle to climb to the top of the waterfalls. Eventually, we retrace our steps to the kayaks for our return journey through the mangroves before transferring by vehicle to our accommodation.



Accommodation: Guest house.
Meals: Breakfast, lunch, & dinner provided.
Total walking: 4.5km (2.8miles).
Total rowing distance: 5km (3.1 miles).



Day 6 Iriomote

We wake up early this morning to head out to one of the island's rivers for another waterborne adventure and experience Iriomote as the sun rises. This time, however, we leave our kayaks on dry land and, instead, try out paddle boards. Originally from Hawaii, paddle boards are used in a standing position and are an ideal way to experience the magic of the morning-still waters reflecting the surrounding mountains, mangrove forests and rising sun. After returning to our accommodation for breakfast, we journey out by charter boat to a cay, a tiny island made of coral sand, in the middle of the ocean for our last snorkelling opportunity. We return to our accommodation to prepare tonight's dinner, a barbecue, and also to say farewell to our local guides.



Accommodation: Guest house.
Meals: Breakfast, lunch, & dinner provided.
Total walking: 1km (0.6miles).
Total rowing distance: 3km (1.9 miles).



Day 7 Iriomote – Ishigaki

After breakfast we take the early morning ferry back to Ishigaki, then transfer to the airport for our return flights. The tour ends at the airport.



Accommodation: N/A.
Meals: Breakfast



This itinerary is subject to change.




The itinerary for the Yaeyama: Okinawa Voyage tour is ground-only, beginning and ending at Ishigaki Airport.
Domestic flights bound for Ishigaki airport depart from Tokyo's Haneda Airport, Osaka's Kansai International and Itami airports, Nagoya's Chubu International Airport, and Fukuoka Airport. JAL, ANA, Peach Airlines and Solaseed Air all provide domestic flights to Ishigaki.
-----
Tour participants are advised not to book themselves out on a morning flight at the end of the tour from Ishigaki Airport as the group transfer will arrive at approximately 11am. If you plan to depart earlier than this, please contact us for advice.
-----
After receiving the booking and deposit we will provide detailed instructions for travelling to the meeting point, complete with a map of the vicinity of the first night's accommodation.